William Rand
William Rand
Primary tabs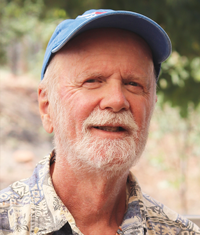 William Lee Rand
Senior Reiki Master/Teacher, Holy Fire® III, President of the ICRT, the
Reiki Membership Association and founder of the Center for Reiki Research.
Teaches Holy Fire® III Reiki
Current Classes
Phone: (800) 332-8112 or (248) 948-8112
Fax: (248) 948-9534 (Michigan EST)
Facilitating classes in Michigan, California, Alaska, Massachusetts, New York,
Arizona, Washington, Hawaii, UK, Europe, Australia, Japan, Taiwan, Vietnam,
Brazil, India, Netherlands, New Zealand, and other areas, countries and Online.
William Lee Rand, is founder and president of The International Center for Reiki Training (ICRT), The Center for Reiki Research and The Reiki Membership Association. He is also the publisher and editor in chief of the Reiki News Magazine. He has authored Reiki, The Healing Touch, The Reiki Touch Kit, Reiki for a New Millennium, The Spirit of Reiki and over 100 articles on the history, philosophy and practice of Reiki. William has done extensive research on the origin and nature of Reiki and produced a pioneering work titled An Evidence Based History of Reiki.
William is the originator of the Usui/Tibetan system of Reiki which he developed in 1989. In 1995, with the help of some of his students, he developed the Karuna Reiki® system of healing. In January, 2014 he introduced the Holy Fire® system of Reiki which was upgraded to Holy Fire® II in November 2015 and then upgraded to Holy Fire® III in September, 2018.
Between 1997 and 2004, he placed World Peace Crystal Grids at the North and South Pole and in Jerusalem. This system allows Reiki students all over the world to join together each month in sending Reiki to the peace grids to promote world peace. Over 428,000 sets of the World Peace Grid cards have been downloaded for use in this mediation.
William received Reiki I in 1981, Reiki II in 1982, and became a Reiki Master in 1989. He has received the Reiki Master level of training from six Reiki Masters including three from Japan. He also received Reiki I&II training from Bethel Phaigh Sensei, one of Takata Sensei's Masters and from Chiyoko Yamaguchi Sensei who is a Reiki Master or Shinpi-den who took classes from Hayashi Sensei.
In addition, William also has a strong background in metaphysics and has previously been a professional astrologer, hypnotherapist, past life regression therapist, rebirther, and is certified in Neuro Linguistic Programing.
William has dedicated his life to Reiki and has practiced and taught full time in classes around the world since 1989. He encourages all Reiki practitioners to work together in harmony to bring peace to the earth.
Reiki, The Healing Touch
Reiki for a New Millennium
The Spirit of Reiki
Karuna Reiki®
Reiki News Magazine
Online Reiki Newsletter
World Peace Crystal Grid
Maluhia Lani Reiki Center
My Reiki Story
By William Lee Rand
Lineage
Below is a chart of William's Reiki Master lineage. If you
take a class from William, this will become your lineage.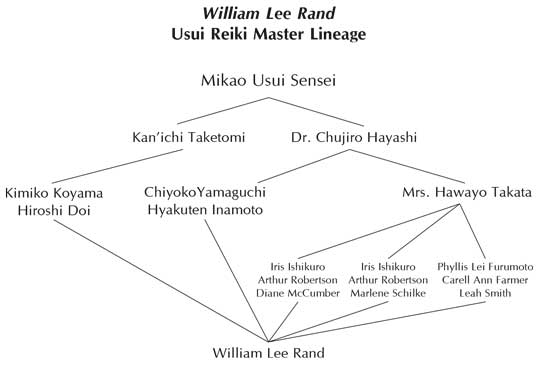 Download a pdf file of William's lineage
Online Classes
Please note, classes listed as Online maybe taught online or in person.
Please contact the teacher to verify the details.
Current Class List
Holy Fire® III - Reiki I/II
Holy Fire® III - Reiki Master
Holy Fire® III - Karuna Master