An Evidence Based History of Reiki
An Evidence Based History of Reiki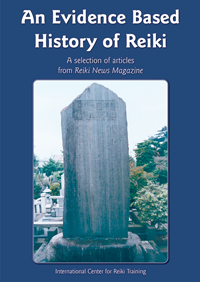 * 30% DISCOUNT SPECIAL *
A 30% discount is available for anyone ordering 5 copies or more. If you enter 5 copies or more in the quantity box above, our shopping cart program will automatically calculate the discounted price for your order.
Within the Reiki community, there have been many attempts to describe its history. But because of the difficulty in discovering authentic sources of information and the lack of disciplined methods, many of the previous attempts have been based more on legendary ideas and a need to validate a particular style of Reiki than on verifiable research.
The information in this book is based on evidenced based facts that have been compiled from a number of authentic sources using accepted methods of historical research. The picture of Reiki revealed here provides a clearer understanding of how Usui Reiki had been originally developed and practiced by its founder, Usui Sensei, and also how it changed and evolved as it was passed on through Hayashi Sensei and Takata Sensei. The inclusion of original historical documents and the extensive footnotes makes it possible for anyone to verify the veracity of the research. Based on the quality of this information, it is now possible to better understand the roots of this sacred practice and in so doing gain a more meaningful comprehension of its essence.
It is hoped that this level of historical research will become the accepted norm in the Reiki community and contribute to a greater level of understanding and acceptance between the various groups, schools and associations.