The Reiki Touch Kit
The Reiki Touch Kit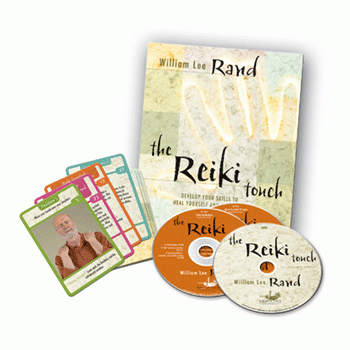 The Best Value in the Reiki World Today!
A Tool Kit for Reiki Practitioners
The kit includes: DVD - Workbook - 2 CDs - Reiki Cards
by William Lee Rand
This kit contains all new material
not available in William's previous books, CDs or tapes.
* 30% DISCOUNT SPECIAL *
A 30% discount is available for anyone ordering 5 copies or more. If you enter 5 copies or more in the quantity box above, our shopping cart program will automatically calculate the discounted price for your order.
Reiki Teachers
Buy 5 or more, get the discount and resell them to your Reiki students.
or
Charge a little more for your class and offer them
as part of your class materials!
This will add value to your class and attract additional students!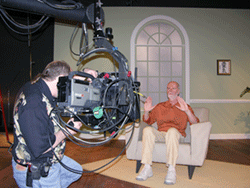 Last year the people at Sounds True contacted me about creating a Reiki multimedia instructional kit. I was very excited about the idea and in fact, I had already been thinking of doing something like this on my own. So we combined our resources and created a really wonderful package. The audio was produced at their studio in Boulder, Colorado. The video portion was produced on a sound stage using a specially constructed set. A crew of ten was employed including a producer, director, and camera, sound and lighting people. Working with such a tightly focused group of professionals was a wonderful experience and I am very happy with the results. This is my best work to date and includes ideas and techniques I've learned from others; developed on my own; and practiced and taught effectively over the course of 25 years. The basics of Reiki are clearly explained including the self-treatment, treating others, the symbols and sending Reiki at a distance. In addition, a number of the most advanced Reiki techniques have been included.
DVD
This one hour DVD includes the following:
Treating Others: Learn how to correctly give a complete treatment using all the standard hand positions. The glands, organs and chakras treated by each position are explained in detail.
Self-Treatment: Follow along as I demonstrate the self-treatment — much like an exercise video. The glands, organs and chakras treated by each hand position are explained in detail and additional suggestions are included to increase the strength of your Reiki; help you relax more deeply; and improve the effectiveness of the treatment. This is an excellent way to learn the hand positions while at the same time giving yourself a treatment.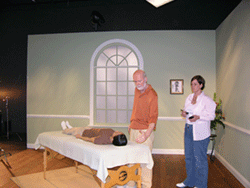 Byósen Scanning: A Japanese Reiki Technique, Byósen Scanning uses the sensitivity in your hands to discover where the client is most in need of Reiki. A demonstration and clear, straightforward instruction is included making it easy for anyone to learn this technique. An advanced method is also explained which combines Byósen Scanning with Gyóshi ho enabling the student to scan with the eyes.
Gyoshi ho: Another Japanese Reiki Technique, which involves sending Reiki with the eyes. This technique enables you to send Reiki to anyone you can see; such as a person on the other side of a room or outdoors and so forth. Gyoshi ho is an excellent technique for: treating children while they are playing, sending Reiki to various parts of your own body, or use it during a regular hands-on treatment to send additional Reiki where your hands are placed or to other areas.
Seeing Auras and Past Lives: This technique has been highly successful with over 95% of students getting results on the first try! Based upon Gyóshi ho, there are several reasons it works so well. First, because you are sending Reiki to the person's aura; Reiki strengthens their aura making it easier to see. Second, because you are sending Reiki with the eyes, the perceptive ability of the eyes merges with the higher dimensional nature of the Reiki energy thus raising the vibration of the eyes and making it possible to see the aura and past life imagery. The demonstration and clear instruction on this DVD make it easy to understand and get results. This technique can be used with a partner or with yourself while looking in a mirror.
Healing Session: At the end of the DVD, I beam Reiki directly to the viewer using my eyes and hands. By simply sitting in front of the screen you will receive a Reiki treatment.
Reiki Cards
A set of 30 uniquely designed cards that demonstrate the Reiki hand positions, symbols (but not the glyphs), and proper Reiki techniques. Each card includes a detailed description. The cards can be used like flash cards to help you learn the various aspects of Reiki. They can also be used to do a Reiki card reading. By following the instructions, you will be able to use the cards along with the intuitive power of Reiki to guide you to the best hand position(s), symbol(s) or technique(s) to treat a specific issue – for yourself or others. So often when we are in need of healing, the stress of the situation inhibits our ability to remember the full range of healing tools and techniques we have available to us. The Reiki Cards allow you to call on higher wisdom to guide your use of Reiki. I have used my own home made version of these cards for years and it is uncanny how helpful and revealing they can be.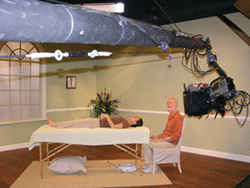 CD 1
This CD contains three Reiki meditations. These are new meditations never available before. As you listen to the meditations, you're asked to give yourself Reiki as you're guided into higher states of consciousness and offered new healing skills and energies. You will also be presented with the possibility of accepting an enlightened being as your personal guide. The first meditation increases the strength and effectiveness of your Reiki energy and deepens your healing process. The second creates a field of Reiki energy that surrounds you and protects you from all negative influence. The last meditation is for problem solving and creativity. The wonderfully soothing music of Nawang Khechog is played in the background of the meditations.
CD 2
This CD features background music to be played during Reiki treatments featuring the flute music of Nawang Khechog.
Workbook
A 100-page workbook is included that contains detailed information on every aspect of Reiki from basic instruction to the most advanced techniques. The workbook contains all new material. Sample chapters include: What is Reiki?; How it Heals; History of Reiki; Symbols; Treating Self and Others; Research; Byósen Scanning; Gyóshi ho; Seeing Auras and Past Lives; Increasing the strength of your Reiki; Spiritual Protection; Reiki and Spirit Release; Creativity and Problem Solving; How to Receive Guidance from an enlightened being; Reiki and world peace, and more.
Attunement Required
The Reiki Touch Kit is meant as a training aid for Reiki students who have already taken a Reiki class or who have at least received a Reiki attunement/placement/ignition/experience given by a Reiki teacher.
Customers Comment on The Reiki Touch Kit
November 16, 2006
Hi all, Just to say I too was very impressed with the Reiki Touch Kit, I am a brand new Reiki Master Teacher and feel as though I now have another Reiki Master Teacher in William Lee Rand, constantly on tap in the CD, DVD and Literature. I have also used it for topping up information in my follow up to Level 1 attunements for clients and may shortly be undertaking training of a group of physically disabled students, so am particularly interested in sharing the Byosen Scanning and Giving Reiki with your eyes techniques so simply explained in his DVD. I was a bit worried about the conversion of dollars to pounds and delivery etc, but was pleasantly surprised at how inexpensive and how quickly the pack arrived. I have no hesitation in recommending this to all on the Reiki Pathway whether beginning or teaching. Many thanks, Joan McCormick
January 15, 2006
The Wonderful Reiki Touch Kit
My daughter Reshna Patel and I would like to thank William Rand for composing such a simple, and precise DVD, CDs, cards and book in a kit with such a reasonable price. You have brilliantly summarized all the stages of Reiki, how it works and where to use it. The DVD is also excellent. Thank you so much for helping condense 10 books I read over a couple of years into one workbook and DVD/CD. The Reiki Touch indeed is the literal touch we have been waiting for. Bless you and keep up the good work. Thanking The Reiki Guide for connecting us to this website and your institute. Best Regards, Kokila & Reshna Patel
January 25, 2006
Just wanted to tell William Rand that his Reiki Touch kit is absolutely wonderful. The music CD that comes with it is heavenly. Thank you for your wonderful energy and spirit William. Sincerely, Bonnie Massey-Cacciotti in Woodlawn, ON Canada
February 13, 2006
Dear William, I am so grateful to have the Reiki Touch Kit! I love it! The Reiki Touch was something that was greatly needed. I believe that it will be very effective in helping more people heal themselves with Reiki and also develop more confidence in using Reiki on a daily basis. Therefore, I would highly recommend it to any Reiki practitioner including those who use Reiki primarily for self-treatment. There are so many tools included all in one kit for exceptional value. I have not seen anything else like it. I find the Workbook to be very comprehensive in that it includes a great deal of information and techniques, yet it is easy to read. You mentioned that the Reiki cards are highly effective. This was confirmed from the first time I used them - I have found their messages extremely accurate and helpful for healing. It is also wonderful to have the 3 new meditations - they are very relaxing and healing. The instructional DVD is fabulous. I am also recommending it to anyone who would like to spend more time doing self-treatments as they can follow along with the DVD and also receive a healing at the end. I have been playing the CD of Nawang Khechog's music at home every night as it is so relaxing and soothing. Heartfelt thanks for everything you do and for making the Reiki Touch available - it is truly a blessing!
Sincerely, Laura Stevens, MSW, Reiki Master
February 16, 2006
Hi William, I just had to write and let you know how valuable The Reiki Touch has been to me. I feel much more self confident in my Reiki sessions, and have felt the Reiki flow a lot stronger. So I thank you for putting together this valuable tool to work with. Linda Curtis
March 27, 2006
William, I want tell you how happy I am and impressed with the Reiki Touch Teaching Set. My personal copy has helped to improve my skills and knowledge as an Usui Reiki Master Teacher, and will assist in passing along the necessary information and teachings to my students. We are planning on using the set for our next Reiki I&II Class scheduled in the late Spring. I have also been using the DVD Meditations and Music CD's during sessions with clients and for my own personal use. I have received alot of compliments on them. Again, thank you William, for sharing your knowledge and teachings through this set. I am grateful. Mitayuke Oyasin, Clio, Michigan
April 08, 2006
I just had to share what an awesome tool "the Reiki Touch" has become for me. I see that you suggest that teachers have it available for their students but honestly I feel it should be added to the core curriculum as a valuable resource just like the workbook. It would help students practice what they learn while they are still growing in their understanding of this beautiful, loving healing energy. I spent 3 years as a training and development manager for an airline and have designed and written many programs. Awesome job on this program!! Your love for Reiki and passion for others to really understand Reiki is experienced by all who view the DVD. Denise Purdy
May 6, 2006
The Reiki Touch kit is excellent. I will definitely be using it to show my students the hand positions and to use as a teaching aid! My daughters and I were watching the DVD and receiving the treatment when my youngest daughter, aged 2, who was sitting on a stool with her hands together, started watching her palms and trying to catch what she saw on her hands! I must admit that this is the longest time my daughter has spent sitting still and was amazed at what she could feel and see. Just goes to show that children ARE our future and may it be filled with Reiki Spirit! Natacha Cooper
June 26, 2006
We have never met, but I wanted to write you and personally thank you for creating "The Reiki Touch" product and for all that you do with Reiki.org!! I am so grateful for "The Reiki Touch." It has profoundly moved me and set me back on course. I just finished going through the entire kit and am just thrilled with all the wonderful guidance, meditations, music, book, cards, etc.. It was exactly what I needed to help with understanding Reiki better, refresh my skills and gain some confidence. I truly love how professional everything is and how different each piece is. They all compliment each other. The music is so beautiful and the meditations are amazing! I love doing them and really appreciate the instructions in the book about how to use them all. The book is so helpful and fun to read. I could go on and on about it. It is the best $40 I spent – truly! It has inspired me to explore Reiki again and for that I cannot thank you enough. Carol Horn
August 25, 2006
Just wanted to let you know that I am blown away by The Reiki Touch! It is a great collection at a fabulous price. I've already watched the DVD and even though I am a Reiki Master myself, I learned a lot of new things (love that!) and enjoyed the healing session (I was very skeptical about that being possible over a DVD, but I had had a draught on my left shoulder that day and it felt very cold and stiff, and the minute the healing session started, it started to get all warm and tingly, so it works, super!). The cards are very useful and the music is so restful and sweet. I tried out one of the meditations as well and really enjoyed it. I'm having a Reiki group share here on Sunday and plan to use the healing meditation then. I can't tell you how pleased I am with this, as well as the fact that when I ordered this lot, I was afraid it might not get to me on time, but will you believe it; it was there after two days! Ordered on the Tuesday and in Holland on the Thursday. So I just thought I'd let you know. And thanks again! Sending you lots of love, light 'n blessings, Iris C. Meijer
Feb. 6, 2007
I am an Usui/Tibetan and Registered Karuna Reiki Master/Teacher from India. I purchased the Reiki tool kit last year. I found each of the components of this tool kit of immense use and each one is a true blessing from Master William Rand and the divine Reiki Energy. The meditations on the CD and Nawang Khechong's music bring with them beautiful experiences like visions, guidance from higher beings of light, a feeling of calmness and a lot of confidence. The workbook is a very elaborate treatise on the Usui Reiki system of natural healing with historically verifiable facts. I use the Reiki Cards for finding the path to move ahead in times of difficulty. The divination technique given in the workbook with the use of Reiki cards is really interesting and it has brought me a lot of success. Finally the DVD with practical explanation of the hand positions and use of Byosen Scanning and Gyoshi Ho JRTs has improved my understanding of these Reiki methods to a great extent and I am able to demonstrate them myself in my Reiki 1&2 classes with great confidence. I thank Master William Lee Rand for gifting the Reiki Community with such a wonderful tool kit. With Regards and Reiki, Sameer Bhave, Indore, India
April 29, 2007
I bought your Reiki Tool Kit a couple months ago - first I was impressed with how quickly I received it. Second, it has truly deepened my entire Reiki experience. While I loved the class I took, I feel as though your tool kit has increased my understanding and ability to be an effective channel for God to utilize me as a Reiki practitioner. The value of all the items received is unbelievable to me... thank you very much! Todd Graves
November 3, 2007
Thank you for developing such a well defined and all encompassing kit. My Reiki teacher included this kit with my second degree Reiki class. I love it, especially the meditation CD which I feel has very much strengthened my connection to my guides and to God. I feel very safe and loved during the meditations and have learned that I am very well assisted on this Reiki journey by enlightened beings. I would highly recommend this kit to any Reiki practitioner as a valuable tool and plan to use it as a teaching aide in my classes. Thank you! Maureen Suriner