The Spirit of Reiki
The Spirit of Reiki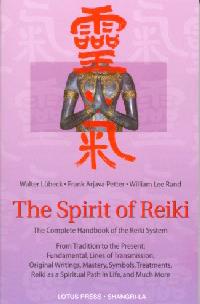 By Walter Lübeck, Frank Arjava Petter and William Lee Rand
The Spirit of Reiki was written by three world renowned Reiki masters which makes this book a first. Never before have three Reiki masters from different lineages and with such extensive backgrounds come together to write a book and share their experience.
To quote the authors:
"We decided to write this book together to share our love and knowledge of Reiki with each other and with the Reiki community. It is our hope that with this book, the love that we have for each other and for Reiki will spread throughout the Reiki community around the world."
This book contains a wealth of information on Reiki never before brought together in one place. The broad spectrum of topics range from the search for a scientific explanation of Reiki energy to Reiki as a spiritual path. It includes the latest understanding of Dr. Usui's original healing methods, how Reiki is currently practiced in Japan, an analysis of the Western evolution of Reiki, and a discussion about the direction Reiki is likely to take in the future. The fact that harmony is developing between Reiki groups is discussed and the author's own collaboration in writing this book is offered as an example. Each shares his own personal experiences about what led them to the Reiki path and how they were guided to a deeper understanding of its principles. All of Reiki's meaningful aspects are clearly explained in. The latest knowledge and developments, as well as the original traditions are presented. Never before has a Reiki book of this depth and comprehen-siveness been available.
This Revolutionary Book Includes:
Understanding Japanese and Western Reiki
The nature of Reiki energy including a scientific explanation
An in-depth analysis of the Reiki symbols
A discussion of the teacher/student relationship
Reiki as a spiritual path
An additional 20 Usui treatment positions which have not been previously published
The Hayashi Healing Guide
The Future of Reiki
These features make this book an important document of contemporary Reiki history!