Julie Russell
Julie Russell
Primary tabs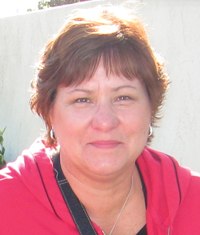 Julie Russell, RN
Senior Reiki Master Teacher, Holy Fire® III
 and ICRT Mentor Teacher
Teaches Holy Fire® III Reiki
Current Classes
Website: www.ReikiOrangeCounty.org
Phone: (949) 370-7592
Facilitates Classes in South Orange County, California, Akron, Ohio and Online.
My 20-Year Reiki Journey as a Reiki Master Teacher
For the past 20 years, my life has been dedicated to the transformative world of Reiki, and it has been an extraordinary journey of healing, growth, and self-discovery on many levels.

As a Reiki Master Teacher, my path has been one of continuous learning, evolution, and a deepening connection with the healing power of energy. The journey began with my initial attunement to Reiki, a moment that marked the beginning of a profound transformation in my life.

Over the years, I have had the privilege of witnessing the incredible impact of Reiki on myself as well as countless individuals. I have now worked on over 8,000 people and or animals and am always amazed by the effects of Reiki on others. Through this ancient practice, I've been able to guide others on their own journeys to balance, harmony, and self-realization. It has been an honor to facilitate healing for those seeking relief from physical ailments, emotional imbalances, and spiritual blockages.

My 20-year Reiki journey has also allowed me to embrace the role of a teacher, passing on the knowledge and wisdom of Reiki to eager and passionate students. Empowering others to become Reiki practitioners and Masters has been a deeply fulfilling aspect of my path.

In addition to Reiki, my journey has led me to explore other holistic modalities, such as sound healing, hypnotherapy, guided imagery, past life regression counseling, quantum healing hypnosis, and intuitive life coaching. These additional skills have enriched my practice, enabling me to offer even more approaches to healing and self-discovery.

The most profound lesson I've learned on this journey is the inate capacity for self-healing and personal transformation that exists within each of us. Reiki has been the cornerstone and key for me personally and has also helped to unlock this potential for countless individuals I have worked with., I always consider it a true privilege to be a guide and facilitator in this natural process of healing.

Looking ahead, my Reiki journey continues with an unwavering commitment to serve, nurture, and empower those who seek my guidance. I am excited about the infinite possibilities that the next years will bring and the opportunity to touch more lives with the healing energy of Reiki.
May you too also discover the beauty and power of working with Reiki… The miraculous medicine of all diseases. The secret art of inviting happiness.
Much Love and Blessings to You,
Julie Russell
ICRT Senior Licensed Reiki Master Teacher
To contact Julie directly, use the contact tab above.
To register for a class visit Julie's website
Online Classes
Please note, classes listed as Online maybe taught online or in person.
Please contact the teacher to verify the details.
Current Class List
Holy Fire® III - Reiki I/II
Holy Fire® III - Reiki Master
Holy Fire® III - Karuna Master
Animal Reiki I/II