Jill Thiel
Jill Thiel
Primary tabs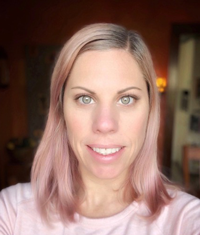 Jill Thiel
Reiki Master Teacher, Holy Fire® III, Director of Social Media and ICRT Mentor Teacher
Teaches Holy Fire® III Reiki
Current Classes
Website: www.mnreikicenter.com
Facilitating classes in Minnesota, Iowa, North Dakota, South Dakota, Wisconsin, Manitoba, Canada and Online.
Jill Thiel is a Licensed Reiki Master Teacher and has been teaching Reiki since 2007. She teaches Usui/Holy Fire® III Reiki and Holy Fire® III Karuna Reiki® classes. She's also a board certified NCTMB Reiki continuing education provider, Licensed Massage Therapist, Certified Foot Reflexologist, and Sound Healer.
Jill has spent the majority of her adult life pursuing spiritual growth to cultivate love and compassion for all beings. Jill practices meditation, and is a student of the honorable Lama Tsering, Chagdud Khadro, and Lama Padma from Chagdud Gongpa, and received several Empowerments over the last decade, including: Red Tara, Chenrezig, Powha, and Medicine Buddha from his holiness the Dalai Lama. She previously worked as a massage educator for The Aveda Institute. From that experience she has gained valuable knowledge about the chakras, aromatherapy, meridians, and Ayurveda.
Her passion for sustainability, organic food and gardening prompted her to start Thiel Gardens with her husband David, who built the first deep winter greenhouse in Minneapolis, according to the University of Minnesota and Sustainable Farming Association. The greenhouse provides a beautiful space that's capable of growing food all year round and, provides a growing space for Reiki research. In 2001, Jill completed an art internship in Florence, Italy and received her B.A in Art. A Minnesota native, she loves animals, traveling, painting, photography, music, astrology, sound healing, crystals and gemstones.
To contact Jill directly, use the contact tab above.
To register for a class visit Jill's website
Online Classes
Please note, classes listed as Online maybe taught online or in person.
Please contact the teacher to verify the details.
Current Class List
Holy Fire® III - Reiki I/II
Holy Fire® III - Reiki Master
Holy Fire® III - Karuna Master
Animal Reiki Master