Jay V Jackson
Jay V Jackson
Primary tabs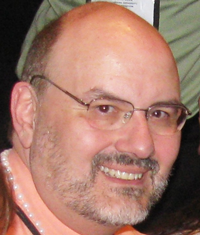 Jay V. Jackson
Reiki Master Teacher, Holy Fire® III
Teaches Holy Fire® III Reiki
Current Classes
Website: www.Reiki-Healing-Arts.com
Phone: (801) 633-3545
Facilitating classes in Colorado, New Mexico, Nevada, Utah and Online.
Hi There! My name is Jay V. Jackson. I would like to welcome you on your Reiki journey. Reiki has been such an incredible and pivotal experience in my life. I love sharing Reiki with others and assisting people to find a loving and peaceful path that will enrich their lives'.
I grew up in the remote Blue Mountains of East Central Oregon. As a child I loved to play with stones and would study them and meditate with them. In my teen years my parents started a gem faceting business, cutting precious gemstones. By my late teens, I became a Master Facetor. I found that if I would study a gemstone carefully and "listen" to the stone I would come up with a design that ended up becoming an incredible work of art. These stones became my teachers in learning about the metaphysical aspects to our life experience.
In the 1990's I saw an ad for a Reiki Class. Immediately something in me clicked and I started to study everything I could about Reiki. In 2004 I became a Reiki Master/Teacher. The call of healing modalities kept calling me and in August of 2004 I completed the massage program at the Utah College of Massage Therapy.
As I continued to study Reiki, I was drawn to the International Center for Reiki Teaching. I was impressed with how the classes were organized, and with great resources being made available. As I studied I had the privilege of learning from incredible teachers such as Lisa StarAhna, Laurelle Shanti Gaia, Michael Baird, William Rand, Colleen Benelli, and Robin Fuerst.
In addition to working as a massage therapist, Reiki Master/Teacher, and Crystal Healing Teacher, I also work full-time as a registered nurse at the Summerlin Hospital on the Intensive Care Unit in Las Vegas, Nevada.
I have become quite passionate about my Reiki experience. The peace and joy that I have found from experiencing this energy continues to astound me. I use Reiki every day for myself, my clients, students, patients and co-workers. I love being a resource and mentor to others as they learn and experience the healing Reiki brings to them.
I love to be a facilitator of healing and enjoy seeing enlightenment spark through others as I also gains new insights. I continue to study Reiki, Crystal Healing, Sound Healing, and Sacred Geometry. I love facilitating class on these subjects whenever I can. I have a schedule of classes that I teach in Colorado, New Mexico, Nevada, and Utah. I am always open to teaching classes in other areas as well.
My classes and healing sessions are open to anyone regardless of race, gender, religious affiliation, or orientation. Reiki is for everyone and does not discriminate. I look forward to seeing you find peace, joy and love on your healing journey.
To contact Jay directly, use the contact tab above.
To register for a class visit Jay's website
Online Classes
Please note, classes listed as Online maybe taught online or in person.
Please contact the teacher to verify the details.
Current Class List
Holy Fire® III - Reiki I/II
Holy Fire® III - Reiki Master
Holy Fire® III - Karuna Master