Harmony DX™ Package
Harmony DX™ Package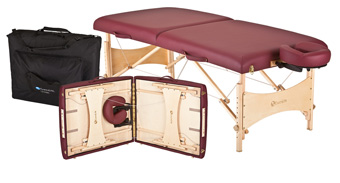 Introducing the Harmony DX™Professional Reiki Table Package
Includes the Deluxe Headrest, Standard Carry Case and shipping.
Due to high demand for raw materials and
lumber, production and estimated delivery is 8 weeks.
Exact shipping will be emailed to the customer once we receive this information.

This Reiki/massage table has an excellent price and is rated for long term professional use! Its hardwood construction is far superior to the discount tables that are made of softwood, have cumbersome setup and wear out quickly. The Harmony DX™ has Earthlite's famous design, including several features found only on more expensive Reiki/massage tables. Quality materials are used throughout. This Reiki table provides easy setup and comfort for your clients with a genuinely economical price! A table this good - at a price this low - is the perfect table for those doing Reiki on family and friends or who are just starting a Reiki practice and it's great for massage too!
Specifications and Features
A wider, full 30"x73" frame
Luxurious multi-layer cushioning system for extreme comfort (2.5" total).
Comfortable arm-sling for additional client comfort.
Passes 2,400 lb. static load test and 450 lb. dynamic load drop test. Recommended working maximum weight 600 lb.
Premium Maple hardwood and Russian Birch decking.
Full length piano hinge for added strength.
Stablefoot™ leg boots for increased traction.
Patented Mid-brace Cradle-lock cabling system provides unsurpassed stability.
Eco-friendly – follows Earthlite's green manufacturing practices.
Milled and assembled following Earthlite's tight manufacturing tolerances.
Earthlite adjustable arm-sling included free of charge.
Dual wooden outlets for even table wear.
Package includes Earthlite's Deluxe Adjustable Headrest, Headrest Cushion and a Premium Single Pocket Carry Case.
Lifetime Warranty on frame, 3 years on foam/vinyl.
Available in Black, Agate and Burgundy.
Price includes shipping and handling.
​​Tables can be shipped to the lower 48 states only.
Lifetime limited warranty on frame, 3 years on foam & vinyl.

Deluxe Adjustable Headrest
Adds a new dimension to adjustability and comfort. In addition to tilting to any desired angle, this deluxe headrest can be adjusted vertically, to custom fit large bodied clients. Simply stated, it is the best headrest on the market today. An $85 value, free with deluxe table.

Standard Carry Case
A $112.00 value, free with deluxe table.
Accessories | Quality Construction | Strength Testing
Environmentally Conscious | FAQs | Lifetime Warranty | Return Policy