Introducing The Earthlite Series of Reiki/Massage Tables
Quality Construction | Strength Testing | Environmentally Conscious
FAQs | Lifetime Warranty | Return Policy
We looked all over to find a set of Reiki/massage tables that would best serve the needs and values of the Reiki community. I am happy to say that not only is the Earthlite series by far the finest and highest quality Reiki/massage tables available today, but they are also manufactured with care and respect for the environment. Because of this, they are considered to be the World's #1 Brand in Reiki/Massage tables and accessories!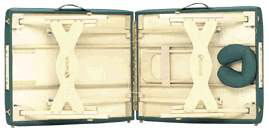 Earthlite uses no rainforest hardwoods. They use only Canadian hard maple for the table legs and braces, and Baltic birch plywood for the table tops, both of which are farmed from renewable wood sources. In addition, you will see a respect for nature in the water-based lacquer and vinyl, and the environmentally friendly foam used on their products.
The frames are finger-jointed and the large corner blocks are screwed and glued from three sides for superior frame strength!
The EZ-grip knobs make table adjustments simple, even with oily hands.
Solid maple corner blocks support the legs on both sides to prevent torquing
The leg braces are supported with two blocks. This reinforces and spreads the weight along the frame for extra strength.
Strength Testing
To qualify for a UL Listing, Earthlite tables passed a battery of rigorous tests. First, each model was tested for stability. Next, our tables underwent a Static Load Test, where over 1000 pounds was placed onto the tables. Then they underwent the Lateral Force Test, which simulates the table's everyday use. Finally, our tables underwent the Dynamic Load test, where a full 450 pounds is dropped onto the table from a height of six inches.

While we are proud to have earned the UL listing as a Massage Table, no test can determine what your table will do in actual practice. The real test is the test of time, and Earthlite tables have passed this test with flying colors. They hold up to the test of time, and their strength and durability are unsurpassed. Just ask any of our happy, satisfied customers.
Earthlite tables are built to last.
Environmentally Conscious
Recycling is naturally integrated into their manufacturing operations. As part of this, they maintain a "reverence for wood." Rainforest hardwoods are not used by Earthlite. All the wood in their tables comes from tree farms. They carefully purchase and cut the wood to minimize waste, and wherever possible, create new products from excess materials. They have also implemented a recycling program for aluminum, glass and paper products within their factory.

Can environmental integrity be achieved without a sacrifice in quality? Yes, in fact, they are so confident it can that they offer a lifetime warranty on many of their tables. These tables do not end up in landfills - they are built to last a lifetime. If you are not 100% satisfied and completely happy with any Earthlite table we offer, you may return it for a full refund!

Our goal is to give you products that will complement your Reiki practice and aid in healing humanity. Earthlite states that their Reiki/massage tables are seeded with love so that an inner peace will reach out to all those who are treated on them and this is an energy you can feel!. We have chosen the Earthlite series because of the quality and value their tables provide and because in the manufacture of their products, Earthlite aims to preserve our natural resources and protect the Earth from undue harm.
Reiki Table FAQs
What working height should be used?
The average height range is 23 to 33 inches. This range is typically comfortable for therapists between 5 and 6 feet tall. A therapist who is over 6 feet tall would be advised to order the "extra long legs" option that will extend the height range to 36 inches.
What is the difference between the deluxe and standard adjustable headrests?
Both of the available headrests are manufactured to rigorous specifications, are easily adjusted with one hand and have a wide range of positive stops. Also, they fold out of the way when they are not in use.
The Deluxe Adjustable headrest, however, adds a new dimension of adjustability and comfort. In addition to tilting to any desired angle, it can be adjusted vertically, to custom fit your clients.
What weight will your products support?
All of our tables are designed and manufactured with the safety of the therapist and their clients in mind and are rigorously tested. All of our portable and stationary tables are designed to easily hold over 1,000 pounds.
And Earthlite's massage complete line of wooden tables has earned a UL-listing - 450-pound working weight designation for strength, stability and safety.
What is the difference between the Spirit, Avalon and Harmony Reiki/massage tables?
The Spirit is simply the finest professional massage table available today. It comes standard with our luxurious three-layer foam system, a single, full-length hinge, hardwood-reinforced ribs and headrest outlets on both ends. The Spirit is available in 28, 30 and 32 inch widths. The standard adjustable height range is 23 to 33 inches. All covering, color and accessory options are also available. The Spirit is covered by our Lifetime Warranty.
The Avalon offers many of the same basic high quality features of the Spirit. It comes standard with our comfortable single layer, 2-inch, high-density foam system, squeakproof hinges and joints and headrest outlets on both ends. The Avalon is available in 28 and 30- inch widths. The standard available height range is 23 to 33 inches. All covering, color and accessory options are also available. The Avalon is covered by our Lifetime Warranty.
The Harmony 3 is our most economically priced full-size portable massage table. It comes standard with our comfortable single, 2-1/2-inch medium-density foam system and a single headrest outlet. It is available in a 29-inch width and has an adjustable height range of 23 to 33 inches. Your choice of colors includes Teal, Agate Blue, Burgundy and Black Ventura vinyl. A package option including a deluxe adjustable headrest and basic carry case is also available. The Harmony 2 is covered by our 2-Year Warranty.
How soon can I get my table?
We can ship stock tables to you within three business days. Special order and non-stock tables are typically ready to be shipped within one weeks of the order. Actual shipping times will vary depending on the shipping location and shipping service requested.
Lifetime Warranty
Our Promise: Earthlite guarantees their portable and stationary tables against defects in material, design and craftsmanship, limited to repair or replacement of the item for as long as you, the original purchaser, own the table, or 5 years after the table is discontinued.* The upholstery fabrics are guaranteed for 3 years and the foam for 5 years. This guarantee does not include damage caused by accident, misuse or neglect such as tears in the upholstery. * The Harmony table has a 2 year warranty and the Travelor chair has a 5-year warranty, with the same terms and conditions as above. Accessories are warranted for 1 year.
Return Policy
If for any reason, you are not completely satisfied with your Earthlite portable table or chair, you may return it within 30 days for a full refund including ground shipping on the original order continental U.S. only. Returns must be pre-approved by EarthLite in like-new condition and original packaging and paperwork. You are responsible for any shipping charges on returns or exchanges.