Reiki News Summer 2004
Reiki News Summer 2004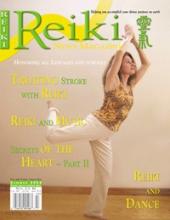 Summer 2004
Digital Version Available
Digital versions are available for online viewing only. Downloading and printing not available.
Once your purchase is complete please go to your profile page and click on the Digital Documents
tab, digital magazines are located lower down on the page. Advertisements are
out-of-date and may appear distorted or blurry but editorial material is not affected.
Honoring All Reiki Schools and Lineagess
The Reiki News Magazine is a 80-page full color glossy magazine containing articles on every aspect of Reiki practice written by some of the most knowledgeable and experienced Reiki people on the planet. Below is a synopsis of the current issue.
Welcome . . .
to the summer issue of the Reiki News Magazine. Our purpose in publishing the magazine is to provide you with inspiration as well as new ideas and techniques so your practice of Reiki can be more fulfilling and beneficial - to you as well as those you treat. By calling on Reiki to guide this process and by continually searching for the very best writers and giving them the freedom and encouragement to produce their best work, we remain focused on fulfilling that purpose. Check the amazing list of articles below. This issue is both exciting and practical!
Here is a list of the articles in this issue:
---
Secrets of the Heart Part II
by William Lee Rand
It's been over four months since my heart attack on New Years Eve. Thanks to the thousands of people who prayed for me and sent Reiki, I've fully recovered. Having so much loving energy focused on the heart has awakened deeper levels of healing and given a clearer understanding of the importance of love in maintaining health. William explains his healing process and shows why the quality of love in our lives including our primary relationship, family, friends and community groups is so important for a healthy life.
---
Reiki and Dance
by Joan (Gianna) Settin, Ph.D.
People love to dance and what better way to enhance this experience than to add the spiritual qualities of Reiki energy. Gianna shares how she combines her love of dance with her love of Reiki. This is a dynamic process that brings deep levels of integration, adding joy, creativity and life to your being! A general description is included on how to use Reiki and dance along with a description of two dance techniques: A Reiki symbol dance and a Reiki heart chakras dance along with photos showing each step.
---
Reiki and Music: The Sound of Love
by Ulla Suokko
Ulla writes about her use of Reiki to transform her flute music into a magical experience of peace and healing. She includes her personal experience using music and Reiki at the World Trade Center disaster. Her descriptions of music and the meditations and exercises she includes provide depth and refinement to the practice of Reiki.
---
Healing with Music
by Diane Shewmaker
Diane tells the story of Janusz, a concert pianist and orchestral/choral conductor who merges Reiki with his music. This is a wonderful story of a highly talented musician who grew up knowing that music and healing belong together. Diane describes his life and explains the many ways Janusz combines music and Reiki to heal.
---
Anatomy for Reiki
While an extensive understanding of anatomy is not necessary for Reiki practitioners, there are times when a basic knowledge of the major organs of the body is helpful, and even necessary. These include when the client has a condition or illness involving a specific organ(s) that needs treatment or when working in a clinic or hospital where communication with medical personnel about a client's condition is necessary. This full color anatomy chart shows all the major organs and includes a brief description of their functions.
---
Treating Stroke and Other Neurological Disorders
by Mari Hall
"The specialized integration treatment I am writing about has helped people to reconnect body, mind, and soul to experience wholeness again" says Mari in this very informative and fascinating article. Mari gives specific instructions and describes a special technique to treat stroke patients, dyslexia and anyone who has a neurological disorder. She includes healing stories of those she's treated using this technique.
---
Reiki at the National Institutes of Health Clinical Center
by Pamela Miles
Learn how Reiki has been integrated into the Pain and Palliative Care Service at the NIH's Warren Grant Magnuson Clinical Center to care for patients enrolled in NIH research trials.
---
The Art of Conscious Touch
by Arjava Petter
A Reiki treatment can be a sacred experience that takes you to higher states, free of the burdens of everyday life. Arjava takes you on a journey of peace and fulfillment as he describes the possibilities one can encounter within the enlightening energy of Reiki. The use of silence and viewing your client without judgment are explained along with guidance on the use of specific hand positions. Both Western and Eastern methods are discussed.
---
Healing Financial Problems with Reiki
by Walter Lübeck
The economy is continually changing and it is becoming increasingly difficult to find and hold a worthwhile job and/or promote your career. In his article, Walter shows how to combine spiritual energy with work responsibilities to create greater harmony and abundance in your life. A technique is included using a pendulum to help you understand where you need healing and you're shown how to use affirmations along with Reiki and the distant symbol to heal your issues.
---
Reiki Stories
Read the stories of people who have experienced the miracle-working power of Reiki.
---
This is an exciting and valuable issue that will supply you with entertainment as well as quality information and instruction. If you have any suggestions on how the magazine could be improved, I'd be very happy to hear them.
The world is a wonderful place, filled with continual changes which bring with them a never ending supply of opportunities. May you grow in the ability to allow the wisdom of Reiki to guide how you create your life.
Love and peace to you and the world.
William Lee Rand,
President