Reiki Love, Joy and Peace
Reiki Love, Joy and Peace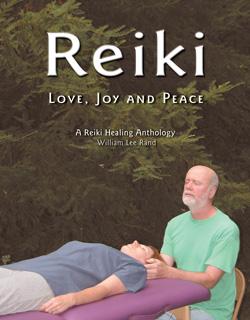 Available in Digital and Hardcopy Versions
Please use the drop-down menu to choose the version you like. Digital versions are available for online
viewing only. Downloading and printing not available. Once your purchase is complete please go to your
profile page and click on the Digital Documents tab, digital books are located lower down on the page.
Reiki Secrets from an Expert
Reiki is a Japanese method for stress reduction that also promotes healing and is practiced by millions of people all over the world. By helping people relax, it improves their enjoyment of life. Many have reported miraculous results. Scientific studies have demonstrated Reiki's therapeutic value and because of this, it is used in over 800 hospitals across the US.
The 67 articles in this anthology were written by William Lee Rand, one of the world's foremost practitioners and teachers of Reiki. They first appeared in the Reiki News Magazine and will provide you with unique insight into every aspect of Reiki practice. Also included are the adventures William experienced as he traveled to the ends of the earth to bless the planet with the healing energy of Reiki.
Additionally, you will:
Learn why people get sick.
Understand the nature of Reiki energy and why it can heal.
Cultivate greater joy and fulfillment in everyday life.
Improve your Reiki practice and teaching skills.
Read through this book in any order you choose. As you do so, you will find these uplifting articles to be both instructional and inspirational and often just what is needed to turn around a difficult day or inspire you to greater achievement with your work and personal projects.
Table of Contents
Our Ten Year Anniversary Issue, Spring 2012
Theory and Practice of Reiki
How Reiki Helps People, Fall 2014
Why Do We Need Reiki? Summer 2002
The Nature of Reiki Energy, Winter 2003
What is Reiki Energy? Winter 2005
What Makes Reiki Symbols Work? Fall 2007
Using the Power Symbol, Summer 2006
The Mental/Emotional Symbol, Fall 2006
The Distant Symbol, Winter 2006
Japanese Reiki Techniques, Summer 2011
Takata's Handouts, Summer 2009
Reiki and the Healing Process, Fall 2011
Reiki and the Healing Process, Part II, Winter 2011
Why I Teach Reiki I&II Together, Fall 2015
The Emergence of Reikiman, Winter 2007
Keeping Reiki Free, Spring 2005
Building Understanding and Cooperation
in the Reiki Community, Spring 2015
Philosophy
Reiki of the Universe, Spring 2003
The Origin of All Is Pure Consciousness, Summer 2008
There Is Always a Higher Way, Fall 2010
Teaching Reiki
Create a Thriving Reiki Practice, Part I, Winter 2006
Create a Thriving Reiki Practice, Part II, Spring 2007
Creating a Reiki Class, Summer 2002
Teaching Skills for Reiki Masters
with Susannah Spanton, Winter 2011
Harmony Between All Reiki Groups, Spring 2003
Secrets of a Traveling Reiki Master, Winter 2009
History of Reiki
An Evidence-Based History of Reiki, Fall 2013
Reiki Before Usui, Spring 2014
The Usui Memorial, Summer 2002
Excerpts from Light on the Origins of Reiki, Spring 2011
An Interview with Hiroshi Doi (2003), Summer 2003
An Interview with Hiroshi Doi (2014), Winter 2014
The Evolving Nature of Reiki, Winter 2005
The Birth of Holy Fire Reiki, Summer 2014
The Future of Reiki, Winter 2015
Reiki in Hospitals
Reiki and Medicine, Summer 2010
Reiki at University Medical Center, Winter 2010
Center for Reiki Research and
Reiki in Hospitals, Winter 2009
Response to the Bishops' Statement
on Reiki, Summer 2009
Peace/Sacred Places
Glastonbury—Ancient Isle of Avalon, Fall 2007
World Peace, Winter 2004
Let There Be Peace on Earth, Winter 2008
Reiki in the Holy Land, Winter 2003
The Standing Stones of Callanish, Spring 2004
Maui Reiki Center—A Dream Come True, Fall 2009
World Peace Is Coming, Fall 2012
Reiki for Life
Living From the Heart of Reiki, Spring 2010
Growing Whole with Reiki, Spring 2008
Living a Meaningful Life, Winter 2007
Secrets of the Heart, Part I, Spring 2004
Secrets of the Heart, Part II, Summer 2004
Enhance Your Reiki Energy
with a Healthier Diet, Fall 2008
Reiki for Happiness and Success, Fall 2006
Spiritual Guidance and Protection, Spring 2006
The Résumé for Life, Winter 2005
The Miracle of Reiki, Fall 2004
Blessed by Spiritual Beings, Fall 2002
Adventures in Giving, Spring 2003
The Horse Whisperer, Fall 2003
An Interview with Marianne Williamson, Fall 2005
An Interview with Virginia Hey, Summer 2005
The Secret of Bread Crumb Mountain, Winter 2006
Are Things Getting Better? Summer 2012
Create a Happier, Healthier Life with Reiki, Spring 2013
Forgiveness and Gratitude Bring Happiness, Summer 2015
Work Less and Get More Done, Spring 2016
Merging with the Source of Reiki, Fall 2016