Vidya Singh
Vidya Singh
Primary tabs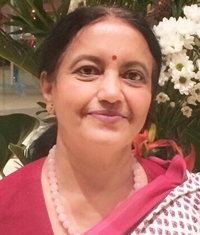 Vidya Singh
Senior Reiki Master Teacher, Holy Fire® II
I and ICRT Mentor Teacher
Teaches Holy Fire® III Reiki
Current Classes
Website: www.zendoreiki.com
Facilitating classes in Mumbai (India), London (UK), Abudhabi (UAE), Dallas, TX (US), Spain and Online.
Vidya has been practicing Reiki for last 20 years. She started teaching Reiki after repeating all levels including Karuna Reiki from William in 2000.
She is now teaching Reiki I and II as a license teacher of ICRT. She also takes classes of Holy Fire® Reiki ART / Master and Karuna Reiki.
Reiki is a passion and commitment for Vidya. It gives her immense happiness to bring joy and peace to others lives with the help of Reiki. Vidya believes Reiki has tremendous positive impact on all aspects of life and has wonderful experiences for both the practitioner and the client.
Vidya has students in 11 countries. All her students are satisfied and leading successful lives after taking Reiki classes. Her student list has grown mainly by word of mouth through her students because of the great results experienced by them.
Vidya enjoys conducting Reiki circles as she believes in service for the society.
To contact Vidya directly, use the contact tab above.
To register for a class visit Vidya's website
Online Classes
Please note, classes listed as Online maybe taught online or in person.
Please contact the teacher to verify the details.
Current Class List
Holy Fire® III - Reiki I/II
Holy Fire® III - Reiki Master
Holy Fire® III - Karuna Master
Animal Reiki I/II
Animal Reiki Master