Teresa Jantz
Teresa Jantz
Primary tabs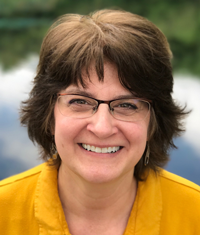 Teresa Jantz
Reiki Master Teacher, Holy Fire® III
Teaches Holy Fire® III Reiki
Current Classes
Website: www.TouchpointTherapy.com
Phone: (970) 903-2547
Facilitating classes in Colorado, New Mexico, Arizona and Texas.
About Teresa
Teresa is the owner of Touchpoint Therapy, LLC and is a Licensed Reiki Master Teacher, a Holy Fire® III Karuna Reiki® Master/Teacher and practitioner, a certified IKC (International Kinesiology College) Touch For Health Kinesiology Instructor and a certified Laughter Yoga Leader. She has been practicing Reiki since 2009. After witnessing how caregivers for the elderly, family, kids or pets work so hard to keep our loved ones healthy. Teresa is excited to be able to offer Continuing Education contact hours through the ICRT (International Center for Reiki Training) for licensed nurses, massage therapists, social workers, and marriage and family therapists. She understands how important it is for us to attend to our personal care in order to not burn out, to maintain our health and how this ultimately benefits those we are around.
My Story
Hi and Welcome! I am passionate about helping students and clients use Reiki as a guide to discover their body's innate healing abilities, to recall and honor their authentic self, and also use Reiki as a tool to further their evolvement toward spiritual enlightenment if they choose. I was introduced to Reiki at a time when I was facing some tough life challenges and needed to heal my spirit, mind and body. Reiki helped me do this and beyond!
In my first ICRT class I felt the inviting Reiki energy immediately and was drawn to it like a bear to honey, and have been ever since! In fact, I fall in love with Reiki more and more each day. Reiki helped me heal, and I found I was rejuvenated and back to my happy self and even happier. Reiki continues to inspire me and put me in awe of its power and the gentleness that it shares. I find Reiki to be effective in so many ways. It always meets us where we are and with our highest good in mind. Reiki can help us live in the present which is essential in maintaining stability, calm and fluidity in living life.
I have always been sensitive to energy and very intuitive since I was a small girl. I loved "playing school" while growing up, so much so that I became a teacher. For 13 years I taught elementary school, Spanish and TESOL (Teaching English to Speakers of Other Languages) to many grade levels as well as adults. I always believed and held the philosophy that the best way to teach is through experiential learning, so teaching Reiki fit me perfectly.
I am honored to be part of the International Center for Reiki Training as a Licensed Reiki Master Teacher, and thrilled to be able to help set the space for people who choose to learn about this compassionate, peaceful and loving energy. Reiki has shown me that it consistently provides heart-to-heart healing. It allows us to grow and further evolve personally, which impacts our world for the better.
With all-encompassing Love and Reiki,
To register for a class visit Teresa's website.
To contact Teresa directly, use the contact tab above.
Online Classes
Please note, classes listed as Online maybe taught online or in person.
Please contact the teacher to verify the details.
Current Class List