Kris Valentine
Kris Valentine
Primary tabs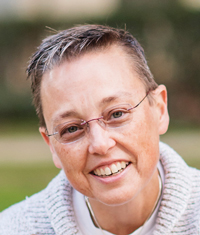 Kris Valentine
Reiki Master Teacher, Holy Fire® III

Teaches Holy Fire® III Reiki
Current Classes
Website: www.krisdvalentine.com
Phone (936) 329-5598
Facilitating classes in Texas.
Kris Valentine is an Usui/Holy Fire® III Reiki Master Teacher and practitioner as well as a physical therapist in the Dallas, Texas area. She became a physical therapist in 1992, a Certified Wound Specialist in 2006, and to become a better physical therapist, became a Reiki Practitioner in 2010.
To register for a class visit Kris' website.
To contact Kris directly, use the contact tab above.
Current Class List