Julianna Davis
Julianna Davis
Primary tabs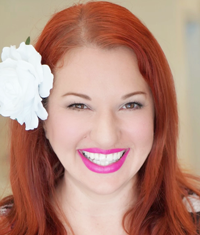 Julianna (Jules) Davis
Reiki Master Teacher, Holy Fire® III

Teaches Holy Fire® III Reiki
Current Classes
Website: www.healingwithjules.com
Phone: (323) 988-1115
Facilitating classes in California, Alberta, BC, Israel, United Kingdom, Internationally and Online.
Julianna Davis aka Jules is a highly regarded Psychic, Medium, Holy Fire® 3 Usui and Karuna Reiki® Master, Master Crystal Healer, Sound Healer, Medical Intuitive, Spiritual Teacher and owner of Auralux in Los Angeles. Her work has been featured internationally in the media on Buzzfeed, E!'s "The Platinum Life", SuperDeluxe, Mixed Makeup, LATV, and in Sunset Magazine.
Jules' passion in life is helping people. She feels at the core of her soul that this is why she is here on this physical plane. Jules' passion for Reiki comes from her consistent experiences with how effectively Reiki facilitates deep healing in her own personal life, as well as for those she has had the privilege to work with and teach.
Education, training and development are extremely important to Jules. She loves to learn, and is always looking to enhance and refine the quality of services and classes that she provides. Jules' extensive training and natural psychic and mediumistic abilities make sessions and classes with her a unique experience. She has worked with clients and students from all walks of life, and of all ages, and provides a safe and judgement free environment for learning.
To contact Jules directly, use the contact tab above.
To register for a class visit Jules' website
Online Classes
Please note, classes listed as Online maybe taught online or in person.
Please contact the teacher to verify the details.
Current Class List
Holy Fire® III - Reiki I/II
Holy Fire® III - Reiki Master
Holy Fire® III - Karuna Master
Animal Reiki I/II
Animal Reiki Master