Jenny Stinson
Jenny Stinson
Primary tabs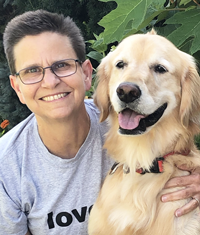 Jenny Stinson
Reiki Master Teacher, Holy Fire® III

Teaches Holy Fire® III Reiki
Current Classes
Website: www.thepeaceroom.love
Phone: (312) 316-5236
Facilitating classes in Idaho, Louisiana, Sonora Mexico and Online.
I'm Jenny Stinson, and I live in Boise, Idaho. I am a Licensed Reiki Master Teacher and have been teaching in some capacity for most of my life. I am currently teaching Usui/Holy Fire® III Reiki, Holy Fire® III Karuna Reiki®, and ICRT Animal Reiki. Also, a Certified Crystal Healer (CCH) and personal empowerment teacher, I teach a variety of classes including "Crystal Angels and Ascended Masters," all levels of Crystal Healing, and "Metaphysical Kids."
The Peace Room, in Boise, Idaho, is a healing and training center that offers individual Reiki treatments and comprehensive training with professional certifications. My constant companion and Reiki partner is my golden retriever, Sydney, who has been with me on my entire Reiki journey.
I have been both a teacher and a student my whole life. Whether it is teaching in an official capacity, sharing what I have learned with my grandkids, or taking a community education or online course, it's what I do.
My education began when I was born. Some very early memories revolve around the built-in bookshelf in the hall of my childhood home. Even before I could read, I would choose a book and sit by the floor furnace and pretend that I was reading. I would make up stories of what I had read and share them with anyone willing to listen. One set of books that I remember was a series of Dale Carnegie books. It's no wonder that later in life I taught adults these principles as a Dale Carnegie instructor.
In my first career, I taught high school students in Louisiana, followed by a short time as adjunct professor at Columbia College in Chicago. After I left the public school classroom, I began learning and teaching in many different areas. I got certified in Jack Canfield's Facilitator Skills Intensive Training, Ed Foreman's Successful Life Course, Crystal Healing and Vibrational Healing with Victoria Vives Khuong of Reiki Wellbeing, Crystal Inner Circle Crystal Healer program, Sage Goddess Crystal Masters program, and Ashley Leavy's Love & Light School of Crystal Therapy.
I am now on the Reiki path, and Reiki has guided me every step of the way. Reiki has shown me a path of love and service for and with others, and I feel like I'm on a new adventure every day. I have discovered that when we are on this path of service, there is no way that we can get lost. Maybe I will see you on the path. Peace.
To contact Jenny directly, use the contact tab above.
To register for a class visit Jenny's website
Online Classes
Please note, classes listed as Online maybe taught online or in person.
Please contact the teacher to verify the details.
Current Class List
Holy Fire® III - Reiki I/II
Holy Fire® III - Reiki Master
Holy Fire® III - Karuna Master
Animal Reiki I/II