Chellie Kammermeyer
Chellie Kammermeyer
Primary tabs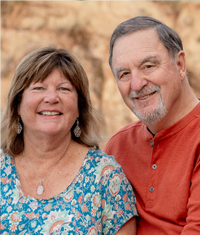 Chellie & Mike Kammermeyer
Senior Reiki Master Teachers, Holy Fire® III
 and ICRT Mentor Teachers
Teach Holy Fire® III Reiki
Current Classes
Website: www.innercompassreiki.com
Phone: (510) 499-4332
Facilitating classes and healing sessions in Lincoln City, Oregon, California, Washington, Alaska and Online.
Chellie & Mike Kammermeyer are Holy Fire® III Karuna Reiki® Masters and are the first couple to go through the LRMT program together. They are now each Reiki Mentor teachers with the LRMT Program.
Their story of how Reiki found them can be found on their website, and it's the same as every other Reiki person … Reiki found them when they needed it. The name of our business, Innercompass Reiki, is the focus of our business. We all feel guided in our lives when we listen to our own inner guidance and allow ourselves to trust our path.
Chellie & Mike have taught together for several years and married since 1993. Their style is laid back and relaxed. And while they may be joking during the class, they are very serious about how Reiki has impacted and guided their lives. By keeping their classes smaller and having two teachers, students can be sure they will have all the individualized attention they desire.
With Reiki being the foundation of all their work, their other classes include:
Crystal Reiki
Reiki Drumming®
Chakra Healing
Meditation events
Reiki Mentor program
Children's Reiki
Reiki & Relationships
(Sacred Union® Reiki Founders)
They each specialize in other areas and combine their styles when they teach. Mike is a Shamanic practitioner and Chellie's passion is crystals and sound healing. And both, Chellie & Mike love to travel. They have taught internationally, and up and down the West Coast. If you are interested in having us teach in your area, please reach out and we will do our best to come to you.
We look forward to meeting you!
Hugs,
To contact Chellie & Mike directly, use the contact tab above.
To register for a class visit Chellie & Mike's website
Online Classes
Please note, classes listed as Online maybe taught online or in person.
Please contact the teacher to verify the details.
Current Class List
Holy Fire® III - Reiki I/II
Holy Fire® III - Reiki Master
Holy Fire® III - Karuna Master
Animal Reiki I/II
Animal Reiki Master