Reiki News Winter 2009
Reiki News Winter 2009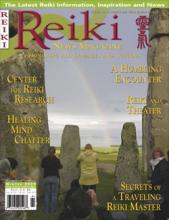 Winter 2009
Digital Version Available
Digital versions are available for online viewing only. Downloading and printing not available.
Once your purchase is complete please go to your profile page and click on the Digital Documents
tab, digital magazines are located lower down on the page. Advertisements are
out-of-date and may appear distorted or blurry but editorial material is not affected.
Honoring All Reiki Schools and Lineages
The Reiki News Magazine is a 72-page full color glossy magazine containing articles on every aspect of Reiki practice written by some of the most knowledgeable and experienced Reiki people on the planet. Below is a synopsis of the current issue.
Welcome . . .
to the Winter issue of the Reiki News Magazine. Our purpose in publishing the magazine is to provide you with inspiration as well as new ideas and techniques so your practice of Reiki can be more fulfilling and beneficial - to you as well as those you treat. By calling on Reiki to guide this process and by continually searching for the very best writers and giving them the freedom and encouragement to produce their best work, we remain focused on fulfilling that purpose. Check the amazing list of articles below. This issue is both exciting and practical!
Here is a list of the articles in this issue:
---
The Gift
by Marianne Streich
Remembering a treasured gift she received years ago reminds Marianne of the importance of sharing it with others.
---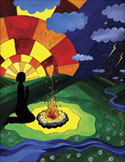 Reiki Tools Heal Mind Chatter
by Colleen Benelli
The thoughts we entertain show up as experience in our lives, for good or ill. Colleen has devised practical tools for disposing of negative thoughts and the energy they create and for helping us to focus on thoughts that reflect what we would like to create in our lives.

---

Reiki and Theater
by Eileen Dey
Reiki helps individual actors hone their craft and is used to enhance the success of a Seattle play readers group.
---

Center for Reiki Research and Reiki In Hospitals
by William Lee Rand
A new Web site launched by ICRT will list and summarize peer-reviewed research on Reiki in addition to providing the information currently listed on the Reiki In Hospitals site. William explains the rigorous process by which the studies were evaluated and their value to the Reiki community and health care professionals.
---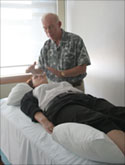 The Rainbow Room
by Michael Allen
The Rainbow Room is a refuge where hospital staff can receive Reiki. Michael explains how the Rainbow Room came about, how it operates, and the benefits to those who receive services.
---

by Tom White, BSc
A Reiki healing encounter with a woman in a nursing home becomes a deeply personal journey for Tom and for her.
---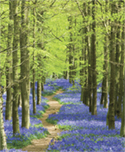 by Kathie Lipinski
Kathie shares wisdom she has gained through 17 years of practicing and teaching Reiki. She offers a process for accessing our higher wisdom and opening to a different way of being through Reiki.

---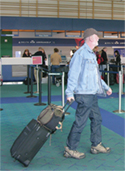 Secrets of a Traveling Reiki Master
by William Lee Rand
A veteran traveler gives useful tips for traveling with ease, saving time, and staying healthy en route.

---

Burn Patient Recovers "Miraculously"
by Ruth Ann Striegel and Lynne Pye
The authors recount how Lynne's son recovered from a third-degree burn with the help of distant and hands-on Reiki.
---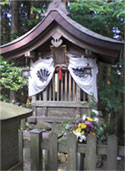 by Suzanna Drozd-Kowalski
Traveling to Japan afforded Suzanna an opportunity to attune her daughter-in-law on Mt. Kurama and to connect with Reiki in a deeper way.
---
Roman, Reiki and Remembering
by Jodie Brenner
Jodie recounts the healing journey of Roman, a horse she acquired from an animal rescue, and how his healing journey facilitated her own.

---
Reiki Stories
Read the stories of people who have experienced the miracle-working power of Reiki.
---
This is an exciting and valuable issue that will supply you with entertainment as well as quality information and instruction. If you have any suggestions on how the magazine could be improved, I'd be very happy to hear them.
The world is a wonderful place, filled with continual changes which bring with them a never ending supply of opportunities. May you grow in the ability to allow the wisdom of Reiki to guide how you create your life.
Love and peace to you and the world.
William Lee Rand,
President