The Reiki Articles of Laurelle Shanti Gaia - Digital
The Reiki Articles of Laurelle Shanti Gaia - Digital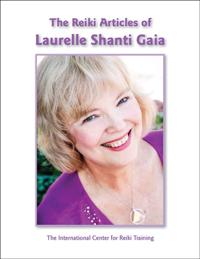 In Memory of Laurelle Shanti Gaia
Laurelle managed the Licensed Reiki Master Teacher Program at the International Center for Reiki Training for twenty-four years, contributing to much of its development. She also had her own Reiki business where she taught classes and provided Reiki sessions. In addition, she was the author of several Reiki books and a regular contributor to the Reiki News Magazine. Certainly, she was also a wonderful friend to each person in our teacher program; she saw the potential in every student teacher and encouraged them to develop it.
This book is a compilation of the articles Laurelle wrote for the Reiki News Magazine. They are imbued with the loving inspiration that flowed through her and a testament to the power of Reiki to heal and guide each of us on our journey through life.
Thank you, Laurelle—my teacher, mentor, and friend—for showing me by your example how to live Reiki and BE Reiki in this life. Thoughts of you fill my heart with love. Your beautiful light and legacy of love and respect for Reiki live on in all of us who were blessed to know you. So, fly free, beautiful "Sister," fly free…
~ Carolyn Musial
There are Teachers who can inspire great healing, and touch your soul in ways that continue to evolve long after you're in their classroom. Laurelle Gaia was one of those for me. She was strong willed, funny, generous, loving, kind, compassionate and so very powerful. I had the pleasure of taking 5 days of Reiki re-training with her and her wonderful husband Michael in 2015.
~ Julianna (Jules) Davis