Reiki News Spring 2013
Reiki News Spring 2013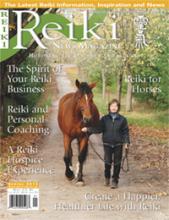 Spring 2013
Digital Version Available
Digital versions are available for online viewing only. Downloading and printing not available.
Once your purchase is complete please go to your profile page and click on the Digital Documents
tab, digital magazines are located lower down on the page. Advertisements are
out-of-date and may appear distorted or blurry but editorial material is not affected.
Honoring All Reiki Schools and Lineages
The Reiki News Magazine is a 80-page full color glossy magazine containing articles on every aspect of Reiki practice written by some of the most knowledgeable and experienced Reiki people on the planet. Below is a synopsis of the current issue.
Welcome . . .
to the Spring issue of the Reiki News Magazine. Our purpose in publishing the magazine is to provide you with inspiration as well as new ideas and techniques so your practice of Reiki can be more fulfilling and beneficial - to you as well as those you treat. By calling on Reiki to guide this process and by continually searching for the very best writers and giving them the freedom and encouragement to produce their best work, we remain focused on fulfilling that purpose. Check the amazing list of articles below. This issue is both exciting and practical!
Here is a list of the articles in this issue:
---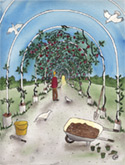 Create a Happier, Healthier Life with Reiki
by William Lee Rand
The hopes and dreams we have are there for a purpose. They are meant to inspire us to take action and bring them into being. You have the ability to do this and in this article William shows you how to take charge of your life and become the person you are meant to be.

---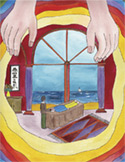 The Spirit of Your Reiki Business
by Colleen Benelli
Starting a successful Reiki business can be an exciting and fulfilling experience when you allow Reiki to guide you. Colleen has developed a thriving Reiki practice based on this important principle, and in this article she explains how you can do it too.

---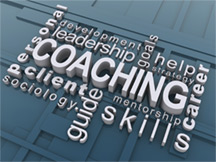 Reiki and Personal Coaching
by Elyn Selu
In this article, Elyn describes how Reiki helped her become a Personal Coach. She also explains how she combines Reiki and personal coaching and how she uses Reiki to help her clients more easily heal their issues.
---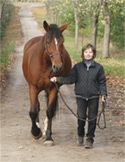 Reiki for Horses
by Kathryn Reid
Kathryn shows how when giving Reiki to horses, it's important to help the horse to feel safe by merging with the consciousness of the horse and allowing it to lead the session.


---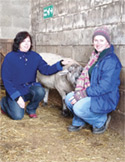 Animal Reiki Sessions and Your State of Mind
by Kathleen Prasad
In this peacefully written article, the author explains how becoming inwardly stabilized in relaxation, patience and positivity opens the door to successful Reiki sessions with animals. The ability to call on this mental state comes through regular Reiki meditation.

---
Teaching Reiki to Children, Part II
by Maureen Dawn Healy
Children have a natural awareness of Reiki and can easily learn how to give Reiki to others. In this article Maureen shares five important qualities that are helpful for those wanting to teach Reiki to children.
---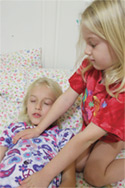 Parenting with Reiki
by Lori Russell-Siemer
Parents are often required to deal with a variety of challenges when raising children. Finding solutions to those challenges is easier when one has Reiki, and Lori shows you how to use this useful skill to make parenting more successful and enjoyable.



---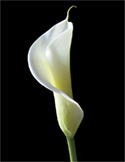 A Reiki Hospice Experience
by Therese Silva-Johnson
When the end of life comes, frequently there are important issues that need to be dealt with—for the one leaving and those close to the person. Reiki is a wonderful tool to help with the end of life and in this article Therese describes how it helped one couple in particular.

---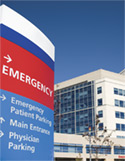 Introducing Reiki into the
Traditional Healthcare Environment
by Marsha R. Drozdoff, ACSW, LCSW, CRMT
A personal experience with Reiki convinced Marsha that Reiki needed to be added to the services provided by the oncology department in the hospital where she worked. Marsha describes how she got the program started.

---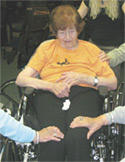 A Reiki Program for a Jewish
Nursing Home for the Elderly, Part II
by Jeannette Stellato
Part II of this article describes how a Reiki program was launched, how problems were solved and the benefits it provided for the participants.

---
Reiki on an Amputated Limb
by Kathy Ong
When a limb is amputated, the energy field remains, often confused and in need of healing. Kathy describes how Reiki guided her to provide relief for the patient and the missing limb.
---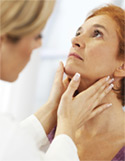 Reiki for the Endocrine System
by Mari Hall
Continuing with her series on Reiki and specific illnesses, Mari explains how the endocrine system affects energy, moods and nuances of consciousness. She also shows how to use Reiki to heal illnesses and conditions that can result from imbalances in this important system of the body.

---
Reiki Stories
---
This is an exciting and valuable issue that will supply you with entertainment as well as quality information and instruction. If you have any suggestions on how the magazine could be improved, I'd be very happy to hear them.
The world is a wonderful place, filled with continual changes which bring with them a never ending supply of opportunities. May you grow in the ability to allow the wisdom of Reiki to guide how you create your life.
Love and peace to you and the world.
William Lee Rand,
President