Reiki News Fall 2002
Reiki News Fall 2002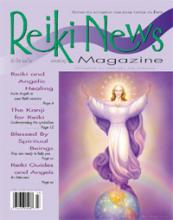 Fall 2002
Digital Version Available
Digital versions are available for online viewing only. Downloading and printing not available.
Once your purchase is complete please go to your profile page and click on the Digital Documents
tab, digital magazines are located lower down on the page. Advertisements are
out-of-date and may appear distorted or blurry but editorial material is not affected.
Honoring All Reiki Schools and Lineages
The Reiki News Magazine is a 80-page full color glossy magazine containing articles on every aspect of Reiki practice written by some of the most knowledgeable and experienced Reiki people on the planet. Below is a synopsis of the current issue.
Welcome . . .
to the fall issue of the Reiki News Magazine. Our purpose in publishing the magazine is to provide you with inspiration as well as new ideas and techniques so your practice of Reiki can be more fulfilling and beneficial - to you as well as those you treat. By calling on Reiki to guide this process and by continually searching for the very best writers and giving them the freedom and encouragement to produce their best work, we remain focused on fulfilling that purpose. Check the amazing list of articles below. This issue is both exciting and practical!
Here is a list of the articles in this issue:
---
Reiki and Angelic Healing
by Diane Ruth Shewmaker
This article gives a very interesting and clear understanding of angels, what they are and how to work with them in your Reiki sessions. It includes three techniques: Angelic Light Weaving, a method of weaving angelic energy into the clients aura, Angel Therapy, a way of receiving guidance and healing from angels, and Lightarian AngelLinks, a method of establishing and strengthening your connection to angels and forming a permanent connection. Examples are given including the authors personal experiences. This is a well written article that gives lots of practical information on how to establish a spiritual healing connection with angels.
---
Reiki Guides and Angels, An Interview
by Laurelle Shanti Gaia
This is a question and answer session with the guides and angels that the author works with. Answers are provided for some of the most interesting and useful questions about guides and angels such as: "How do I know guides are really there." "How can I be certain that the guides that are working with me are good and are of the light, rather than a negative influence." "How can guides help me in my Reiki practice." "How can I communicate more clearly with my guides?"
---
Blessed by Spiritual Beings
by William Lee Rand
This article gives specific instructions on how to use Reiki to connect more directly with angels, guides and enlightened spiritual masters. A special Reiki meditation is described as well as an example given. The author states: "God as well as all enlightened beings are continually sending our powerful healing energies that can greatly benefit us. In fact, it is their intention that we be completely healed and become enlightened also.
---
Knowing The Master Within
by Mari Hall
Mari explains how to use Reiki to contact the part of the deep-self that is all knowing and the source of our healing energy. Guidance and many benefits can come from this important part of ourselves.
---
The Kanji for Reiki
by Walter Lübeck
Walter takes the mystery out of the Reiki kanji and gives some meaningful information that can be a guide to our Reiki practice and our lives. The symbolism is explained insight is given for this most important Reiki figure. Walter says: "The kanji for Reiki has many levels within its message, which reveal fascinating information about Reiki energy work and the Reiki philosophy, when taken as a whole. My involvement with this symbol has been of great help to me personally." In an additional article, Reiki Questions and Answers, Walter provides information the use of Reiki.
---
Treating Alzheimer's Disease with Reiki
by Therese Silva
The author explains how she helped patience in her nursing home reduce the symptoms of Alzheimer's with Reiki. She describes her experiences with two patience explains the Reiki techniques she used and the positive results obtained. An explaination and history of Alzheimer's is also included.
---
Reiki Stories
These are stories of successful experience people have had treating various conditions and illnesses. Eleven stories are told that include serious injuries and illnesses, infections, coma, and heart disease all which responded positively to Reiki treatment. Some involve miraculous recoveries involving before and after medical tests.
---
This is an exciting and valuable issue that will supply you with entertainment as well as quality information and instruction. If you have any suggestions on how the magazine could be improved, I'd be very happy to hear them.
The world is a wonderful place, filled with continual changes which bring with them a never ending supply of opportunities. May you grow in the ability to allow the wisdom of Reiki to guide how you create your life.
Love and peace to you and the world.
William Lee Rand,
President