ICRT Animal Reiki I & II Manual - Swedish
ICRT Animal Reiki I & II Manual - Swedish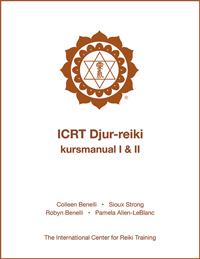 Digital Manual
Digital versions are available for online viewing only. Downloading and printing not available.
Once your purchase is complete please go to your profile page and click on the Digital Documents tab.
by Colleen Benelli, Sioux Strong, Robyn Benelli and Pamela Allen-LeBlanc
This manual accompanies the two-day ICRT Animal Reiki Training I & II class and supports online or in-person training taught by an ICRT Animal Reiki Training Master Teacher. For those who want to share Reiki with animals, this beginning training manual is comprehensive. It extensively defines Animal Reiki, how it works, and how to practice it.
Practitioner skills, tools, and techniques for sharing Reiki are presented for a wide spectrum of domestic and wild animals, individually or a group, within a home environment or sanctuaries and shelters. In addition, there are Preparations for Animal Reiki sessions, including the Animal Reiki Grounding Exercise and the Whole Body Awareness Meditation with scripts and step-by-step instructions.
Providing expert information on everything you need to establish a thriving Animal Reiki practice, the content also provides direction on integrating Animal Reiki into your existing Reiki business or Animal Reiki practice.
This manual is a must for anyone wanting to or already working with animals and Reiki, whether at home or professionally. Written with inspiration, expertise, and a deep passion for animals, it is for animal lovers from all professions and walks of life who share the common goal of uniting with each other, the animals, and the earth.
A Peek Inside
Chapters
Animal Reiki Defined—Includes the history of ICRT Animal Reiki Training, how animals have their own divine purpose, unified consciousness with the animals, practitioner self-care, and more.
Symbols—Includes a Reiki Symbol Refresher and introduces the Tree of Life Animal Reiki symbol.
Animal Reiki Sessions—Describes common healing issues for animals, preparation for your Animal Reiki session, getting consent in Animal Reiki, animal safety, developing your own Animal Reiki style, Animal Reiki full-session steps for in-person or online sessions, and more.
Pictures of Animal Reiki—Contains color photos illustrating Animal Reiki use.
Distance Animal Reiki—Presents how to provide distance Animal Reiki treatments, including wild animals, sanctuaries, zoos, groups of animals, and deceased animals.
Compassion—The chapter discusses balancing empathy and compassion, the characteristics of compassion fatigue, end-of-life support, and more.
Creating a Thriving Animal Reiki Practice—Guidance on establishing fees for your Animal Reiki sessions and how to provide Animal Reiki in a formal or professional environment.
What the Animals Want You to Know—As told by the animals, what dogs, cats, horses, farm animals, birds, and other animals what humans to know.
Exercises and Meditations for the Reiki II Practitioner
Animal Reiki Grounding Exercise
Whole Body Awareness Exercise
Animal Grief Healing Meditation
Articles by the Authors
Healing from Hector, by Sioux Strong
Wise Words from Joc, the Clydesdale, by Pamela Allen-LeBlanc
Molly's Story, by Robyn Benelli
Appendix
Animal Reiki Client Information Form
ICRT Animal Reiki Training Guiding Principles
ICRT Animal Reiki Training Code of Ethics
Animal Chakras Chart
Author Biographies
Presenting a comprehensive introduction to Animal Reiki in a user-friendly format for established professionals, the ICRT Animal Reiki Training I & II Manual will enhance your Reiki ability and confidence to practice Animal Reiki.