CD: Past Life Healing
CD: Past Life Healing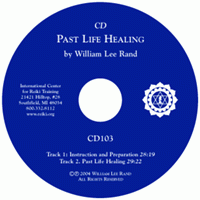 * 30% DISCOUNT SPECIAL *
A 30% discount is available for anyone ordering 5 copies or more. If you enter 5 copies or more in the quantity box above, our shopping cart program will automatically calculate the discounted price for your order.
You have lived many times before and your subconscious mind has a perfect memory of all your past lives. Often the original cause of a problem is in a past life and by going back to the cause it is possible to understand the lesson the problem has to offer and to release the problem for good. This CD is based on twenty years experience in guiding people back into past lives for healing and personal growth. It allows you to choose the problem whose cause you would like to explore and guides you in a safe and healthy way to understand and heal the problem. When using the CD, you always have control and can awaken at any time.
Track one explains the process and prepares you to explore your past lives. Track two guides you back to the original cause of any condition or situation you'd like to explore and heal. The CD is open ended allowing you to choose the type of past life you'd like to explore thus allowing many possibilities. William has years of experience in past life regression therapy and designed this tape to be completely safe and effective. You are always in control and able to awaken safely at anytime. This CD is amazing!