CD: Audio Reiki News Mag
CD: Audio Reiki News Mag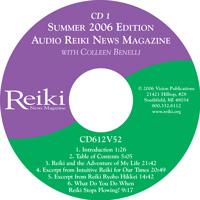 * 30% DISCOUNT SPECIAL *
A 30% discount is available for anyone ordering 5 copies or more. If you enter 5 copies or more in the quantity box above, our shopping cart program will automatically calculate the discounted price for your order.
The Summer 2006 Reiki News Magazine is available as a 3 CD set.
You can listen to the articles in your car, at home while working around your house or while relaxing.
Read by Colleen Benelli
Contents
CD 1
1. Introduction - 1:26
2. Table of Contents - 5:05
3. Reiki and the Adventure of My Life - 21:42 Mari Hall
4. Excerpt from Intuitive Reiki for Our Times - 20:49 Amy Rowland
5. Excerpt from Reiki Ryoho Hikkei - 14:42 Hyakuten Inamoto
6. What Do You Do When Reiki Stops Flowing? - 9:17 Yvonne Allred
CD 2
1. Reiki and Surgery - 25:18 Kathie Lipinksi
2. Reiki and the Power of Love - 18:56 Walter Lübeck
3. Confessions of a Newly Trained Reiki Healer - 16:52 Ann Turner
4. Reiki Stories - 14:37
CD 3
1. Using the Power Symbol - 21:18 William Lee Rand
2. Reiki Crystal Healing - 27:51 Laurelle Shanti Gaia
3. Contributors Section - 8:14