Reiki The Healing Touch - Spanish
Reiki The Healing Touch - Spanish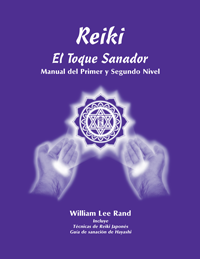 Reiki: El Toque Sanador (Español)
por William Lee Rand
Revisado agosto 2011
Available in Digital and Hard Copy Versions
Please use the drop-down menu to choose the version you like. Digital versions are available
for online viewing only. Downloading and printing not available. Once your purchase
is complete please go to your profile page and click on the Digital Documents tab.

¡Este manual es utilizado por más de 4000
Maestros de Reiki como su manual de clase!!
*DESCUENTO ESPECIAL DEL 30% *
Un descuento del 30% está disponible para cualquier persona que pida 5 o más copias. Si introduce 5 copias o más en el cuadro de cantidad (arriba) , nuestro programa de compras calculará automáticamente el precio con el descuento inlcluido en su pedido.
¡Perfecto para profesores y estudiantes!
¡Ahora incluye las Técnicas japonesas de
Reiki y la Guía de Sanación de Hayashi!
TÉCNICAS JAPONESAS DE REIKI
Incluye las nueve técnicas de Reiki del Dr. Usui que enseñó a sus estudiantes, pero que apenas se han hecho disponibles en occidente. Instrucciones con ilustraciones.
GUÍA DE SANACIÓN DE HAYASHI
Esta es una guía para las posiciones de manos de más de 100 enfermedades y condiciones que se desarrolló en Japón por el Dr. Hayashi.
La edición revisada y ampliada cuenta con secciones sobre:
El Reiki Pasado y Presente
¿Cómo sana el Reiki?
¿Cómo usar el Reiki?
Información detallada sobre el uso de los símbolos de Reiki
Incluye todas las posiciones de manos usadas en occidente
Técnicas Japonesas de Reiki
¿Cómo combinar el Reiki occidental y el japonés?
Ser un un Maestro de Reiki
Desarrollando una práctica de Reiki
Reiki en Hospitales
Descubriendo las raíces de Reiki
Licencia y Entrenamiento de Reiki
El Memorial de Usui y el Monte Kurama
Extensas notas e índice
180 páginas, 40 dibujos, 18 fotos
Este libro se ha actualizó recientemente para incluir los últimos descubrimientos sobre la historia de Reiki, incluyendo la investigación de los dos viajes a Japón de William. La historia revisada se basa en hechos verificables e incluye información del manual de Reiki original del Dr. Usui, así como la Guía de Sanación de Hayashi, la lápida memorial de Usui en Tokio e información del monte Kurama donde fue descubierto el Reiki. Los mitos sobre el Reiki se disipan y se establece una clara comprensión sobre la práctica del Reiki.
Este libro es una necesidad para cualquier persona que desea la información más reciente sobre el Reiki. Incluye las Técnicas japonesas de Reiki, así como la Guía de Sanación de Hayashi. Está completamente ilustrado con más de 40 dibujos y 18 fotografías. También contiene una explicación completa y fácil de entender del Reiki, cómo funciona y cómo practicarla. Escrito con inspiración, claridad y vitalidad, que captura la esencia del Reiki y proporciona una notable profundidad de sus conocimientos.
Los capítulos "Desarrollando una práctica de Reiki", "Ser un Maestro de Reiki" y "Reiki en Hospitales" inspiran e instruyen a uno en cómo integrar el Reiki en el mundo cotidiano. Es una excelente introducción al tema, así como un manual de fácil comprensión para el practicante experimentado. Ampliamente revisado y ampliado, este libro es 50% mayor que la versión anterior.