Registered Karuna Reiki® Master Manual
Registered Karuna Reiki® Master Manual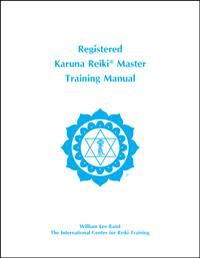 Available in Digital and Hard Copy Versions
Please use the drop-down menu to choose the version you like. Digital versions are available
for online viewing only. Downloading and printing not available. Once your purchase
is complete please go to your profile page and click on the Digital Documents tab.
Please ensure you are purchasing the right style of teaching manual for your
class (i.e. Usui/Tibetan, Holy Fire®, Holy Fire® II, Holy Fire® III). Vision Publication will
not be held responsible for any returns due to customer purchasing incorrect manuals.
* 30% TEACHER DISCOUNT SPECIAL *
A 30% discount is available for anyone ordering 5 copies or more or the same manual. If you enter 5 copies or more in the quantity box above, our shopping cart program will automatically calculate the discounted price for your order. You will also receive an additional 10% discount for ordering from our web site.
Master Certificate/Registration Required

Before you can teach Karuna Reiki® it is necessary for you to register with the Center. This is a simple process which we have set up to ensure the quality and integrity of the Karuna Reiki® system. Please set up an account and then submit your Karuna Reiki® Master Teacher certificate to center@reiki.org. We will contact you if there are any question or problems.
Table of Contents
The Center Philosophy and Purpose
Kuan Yin and Karuna Reiki®
The Healing Process
The Origin of the Karuna System of Reiki®
Karuna and Spiritual Guidance
Healing the Shadow Self
Shadow Self Meditation
How to activate the Karuna Symbols
Preparing to give a Karuna Reiki® treatment
Karuna I Symbols
Zonar
Halu
Harth
Rama
Karuna II Symbols
Gnosa
Kriya
Iava
Shanti
Karuna Master Symbols
Contracting the Hui Yin
The Violet Breath
Preparation Before Giving an Attunement
The Receptive Mudra
The difference between attunements
Teacher Preparation
Karuna I Practitioner Attunement
Karuna II Practitioner Attunement
Karuna I Master Attunement
Karuna II Master Attunement
Chanting
Toning
Using and Teaching Karuna Reiki®
Class Outlines
Registered Karuna Reiki® Program
Minimum Teaching Standards
Code-of-Ethics
Registration Form
Symbol Test Forms
Class Review Form
Client Information Forms