Holy Fire® III Karuna Reiki® - 7 Day - Hana 11/11/23
Description
Seven Day
Holy Fire® III World Peace
Karuna Reiki® Master Teacher Training
In-person class on Maui
Learn to Teach World Peace Reiki Online and In-Person
November 11-19, 2023
Saturday, November 11 - Arrive in Hana
Class runs 8:30am - 6:30pm on Sunday, November 12
Class runs 8:50am - 6:30pm on November 13-18
Students Depart Sunday, November 19
Class fee $3995 USD
This class includes Holy Fire® III World Peace Reiki
The Birth of World Peace Reiki
In this article, William describes the nature of World Peace Reiki.
Who is qualified
Anyone with Reiki Master from any lineage.
Facilitators
William Lee Rand and Colleen Benelli
As we explore the natural world and discover beauty and
power in sacred places, so too will we explore the inner
world and discover beauty and power within ourselves.
Hana is Safe and Was Not affected by the Lahaina Fire
The fire that burned down the town of Lahaina was a tragedy. We are sending our love and Reiki to help heal the situation as they complete the clean up and make plans to rebuild. However, the fire had no effect on the town of Hana where the 7-day Karuna class will be held. Hana is over 100 miles away from Lahaina and is safe. The Hana coast gets enough rain to prevent the possibility of wildfires. In addition, the Maui property is off the grid and produces its own electricity from 63 solar panels and storage batteries plus a large backup generator. In addition, it has a 35,000-gallon water tank which is full. And there are plenty of bed and breakfasts with enough vacancies to easily accommodate our students. We are going to have a great time together during the Karuna Reiki® class.
Come to the amazingly beautiful and pristine Hana coast of Maui and become a Karuna Reiki© Master Teacher in this extended 7-day class. The Hana coast is recognized as one of the few remaining parts of Hawaii that retains the old Hawaiian energy. Sparsely populated and situated along a rugged coast, this is truly one of the most wonderful places in the world. There are no high rises and just one hotel. (But many vacation rentals, see listing below). With a total population of just 1800 along the whole 50-mile coast - it's not crowded! There's lots of waterfalls, beaches and hiking trails to enjoy. The energy here is very peaceful, but also intensely spiritual. This is truly a very special place.
Half our time will be spent in the classroom receiving training, spiritual experiences and ignitions and giving each other Reiki sessions. The other half of the time we'll be on field trips going to the special areas along the Hana coast William has discovered. We'll be swimming under waterfalls, going to exotic beaches including a secret black sand beach few people know about as well as hiking through a bamboo forest on our way to a 400' waterfall. At the end of the day, you'll be served an organic gourmet dinner made from fresh caught local fish and local grown vegetables. (Class fee includes 5 dinners. The other 2 nights we'll go out to a local restaurant.
Holy Fire® III World Peace Karuna Reiki® Training
This class is the next step after Reiki Master and is both a Practitioner and a Master class. You will be able to teach this class online or in person. Those who take the class will be able to use the Karuna symbols in their Reiki sessions and teach the complete Holy Fire® III World Peace Karuna Reiki® Training. You will also be able to teach Reiki I&II and Reiki Master as Holy Fire® III World Peace classes Online or in person (however, it is easier to teach them if you have previously taken all the classes from an ICRT teacher prior to teaching them). It is complete with eight practitioner symbols, one master symbol, four ignitions and two meditations that are guided directly by the Holy Fire® energy.
Placement and Ignitions are the same as Attunements
Placements and Ignition are much easier to do than the old-style hands-on attunements. This makes teaching these levels of Reiki much easier as you will not need class time to demonstrate and practice the attunements in class. Also, the Placement/Ignition system provides a more effective level of Reiki for the student and also empowers the symbols with more effective healing energy. In the Ignition process, the teacher's energy stays more completely out of the experience thus allowing a purer and more powerful form of energy to interact directly with the student. Ignitions and Placements are thoroughly explained and demonstrated in class and are clearly described in the Karuna Reiki® manual.
A brief description of the four Karuna® I symbols is given here: The first symbol prepares the client for deep healing and is useful with past life issues. It helps release karma and deeply seated issues on the cellular level. The second symbol heals deeply and can be used to break up the negative patterns we unconsciously use to insulate ourselves from the truth, thus shattering delusion and denial. It heals the shadow self. The third symbol fills the person with love and restores balance. The fourth symbol completes the treatment by bringing the client back into the body and grounding.
The Karuna II symbols have a higher vibration. They help connect directly with the Higher Self and work on a deeper level. While they have specific purposes discussed in class, the experience of their energy allows intuitive guidance in their use.
Both levels of Karuna Reiki® and both Ignitions will be given as well as instruction and practice on the use of all nine symbols. You will be able to teach both levels after taking this class, either in person or online.
Lots of practice time is included for giving treatments and using the symbols.
We will also be doing chanting and toning with the Karuna Reiki® symbols.
Come network with other Reiki Masters from all over the country and often the world! This is an exciting workshop with lots of dedicated, high-energy people.
A certificate and a manual are included with in depth descriptions of each symbol and the Ignition process.
All Reiki class registrations include a one-year subscription to the Reiki News Magazine! If you currently have a subscription, four additional issues will be added to your subscription. This includes International students.
After completing this class, you will be a "Registered Karuna Reiki® Master" with The International Center for Reiki Training. You will then be able to use our manuals. If you would like more information on becoming this process, please contact us.
This class is a deeply healing experience.
In the course of receiving the attunements, Holy Love Experiences and Ignitions and practicing the techniques and attunements on each other, we will be deeply healed. This will be a wonderful class and we look forward to seeing you.
Love and blessings,
William Lee Rand and Colleen Benelli
The road to Hana is one of the most scenic roads in the world. Winding in and out of tropical valleys high above the ocean, with many views overlooking the rugged coast line hundreds of feet below; the experience is breathtaking. The road is very twisty and windy with multiple switchbacks and many 10 mph sections and also includes 56 one lane bridges. Many of the fern lined valleys have waterfalls with some visible from the road and others requiring a short hike. Some have pools below the falls you can swim in. There are also many beautiful beaches. While the road is only 50 miles long, it takes 2 hours to drive if you go straight through.
Hana is a very quiet, relaxing and beautiful place. It has a population of 800 and the entire 50-mile coast has a population of about 2000 - which hasn't changed in 60 years! In addition, there are no stop lights or stop signs for 100 miles.
Workshop Location
www.lemurioroundhouse.info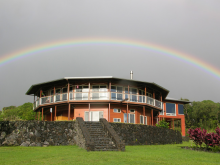 Learn more about the ICRT Reiki Center in Hana
The training fee is for the training, but also includes 5 catered organic gourmet dinners. (On the other 2 nights we'll be going out for dinner.) You are required to cover the cost of your travel to the training, food (exept the 5 dinners provided) and lodging. Lodging at local bed and breakfasts in the area is recommended. Lunches will be eaten together at the Center or on field trips.
Questions
If you have any questions about this class or any other class,
please contact the Center at 1-800-332-8112 or 1-248-948-8112
or Fax 1-248-948-9534 or by email at center@reiki.org
A place to stay
You'll need to find a place to stay while in the Hana area. Visit this website for listings www.hanamaui.com/lodging, do an internet search on "Hana Maui Bed and Breakfast" or try some of these:
Hana Alii - 800-548-0478, 808-248-7742
Tradewinds - 800-327-8097, 808-248-8980
Bamboo Inn - 808-248-7718
Hana Ocean Front Cottages - 808-248-7558
Hana Kai Maui Resort - 800-346-2772, 808-248-8426
Hana Maui Vacation Rentals - 808-248-8087
Aloha Cottages - 808-248-8420
Joe's Place - 808-248-7033
Hana Aloha Hale - 808-575-2185
Hana Paradise Cottages - 808-248-7746
Sybil - 808-248-7204
Alalele Place - Call Rose at (808) 871-6007 or Cell (808) 298-6017
Hotel Hana Maui - This is the only hotel in
Hana but very expensive $295-$1000/day
800-321-4262, 808-248-8211
Looking for the lowest airfares? Try these sites:
www.airfarewatchdog.com
www.hipmunk.com
www.yapta.com
www.momondo.com
Free Bus Ride Kahului to Hana
M.E.O. Runs Monday - Thursday - Friday
Leaves Kahului 1pm, Leaves Hana 6:30am
Call 808-248-8282 for info
Camping and Cabins
At Waianapanapa State Park near Hana, you can rent cabins or camp. Call State Parks to make reservations (well in advance) 808-984-8109 Camping $18/night, cabins $90/night.
Food
Hana has two small stores, two restaurants and a bar. While the food at the restaurants is good, it's also a good idea to bring food with you to prepare as part of group meals at the Center or in your room. Since the selection in Hana is sparse and expensive, it's a good idea to shop for food in Kahului or Paia before driving to Hana.
Transportation
Fly into Kahului, Maui, rent a car and drive to Hana. Carpooling is possible and as the class date approaches, we'll be setting up a Facebook group page so people will be able to communicate with each other about carpooling, sharing lodging and so forth. Since most flights arrive into Kahului in the afternoon, it's advisable to stay in the Kahului area over night the day you arrive, then drive to Hana the next day, although some students do drive to Hana the day they arrive.
Texas Students and others.
Delta Airlines flies non-stop from Houston and other airports into Kahului, Maui and American flies non-stop from Dallas airport.
Entertainment
Hana is a very small and quiet place. There is 1 gas station and only one quiet bar in the Hana Hotel that occasionally features Hawaiian music and music also is offered at the Ranch Restaurant. There are no movie theaters, nothing else open at night.
Necessary Qualifications
To qualify to take this class, a student must have been a Reiki master for at least 6 months and be able to draw the Reiki II and master symbols from memory. Prior classes need to have been in person. However, online training for Reiki I&II and Reiki Master is acceptable for qualification as long is it is with someone who's lineage is with the ICRT. At the time of registration, you are required to send in a copy of your Reiki Master certificate. Please fax to 248-948-9534 or send as an attached file to center@reiki.org.
Class Registration
You can register for this class by paying the whole fee or by paying the non-refundable deposit fee. Deposit is non-refundable, but can be transferred to another class within 1 year. If you have already made a deposit payment, please pay your balance by going to your account page - click on the Deposits tab and finalize your balance payment. After acceptance into the class, your class information will be sent.