Reiki News Fall 2020
Reiki News Fall 2020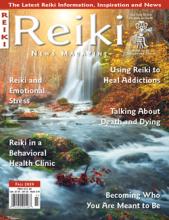 Fall 2020
Available in Digital and Hardcopy Versions
Please use the drop-down menu to choose the version you like. Digital versions are available for online
viewing only. Downloading and printing not available. Once your purchase is complete please go to your
profile page and click on the Digital Documents tab, digital magazines are located lower down on the page.
Honoring All Reiki Schools and Lineages
The Reiki News Magazine is a 80-page full color glossy magazine containing articles on every aspect of Reiki practice written by some of the most knowledgeable and experienced Reiki people on the planet. Below is a synopsis of the current issue.
Welcome..
to the Fall issue of the Reiki News Magazine. Our purpose in publishing the magazine is to provide you with inspiration as well as new ideas and techniques so your practice of Reiki can be more fulfilling and beneficial - to you as well as those you treat. By calling on Reiki to guide this process and by continually searching for the very best writers and giving them the freedom and encouragement to produce their best work, we remain focused on fulfilling that purpose. Check the amazing list of articles below. This issue is both exciting and practical!
Here is a list of the articles in this issue:
---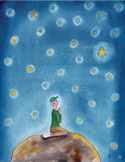 Becoming Who You Are Meant to Be
by William Lee Rand
We come into this life with a purpose, but often our purpose gets mixed up with the values of society and the wishes of our parents, and we lose sight of our original goal. However, Reiki can help us recall our purpose and empower us to achieve it.
---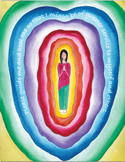 Allowing Reiki to Guide Your Life
by Pamela Allen-LeBlanc
In this article, Pamela shows how Reiki can improve your inner guidance and help you gain a clear understanding of who you are and what you are here to accomplish.

---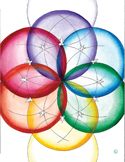 Reiki to the Rescue—One Reiki Master's Experience of Teaching Reiki Online
by Rose O'Connor
Rose describes how Reiki energy led her to take the Holy Fire® Online Reiki Master Training, which healed and empowered her to teach her scheduled Holy Fire® III Reiki II class online during the pandemic.
---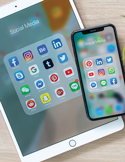 Grow Your Reiki Business through Social Media
by Karen Caig

Becoming a leader in social media will help you develop your Reiki business quickly and with little cost. In this article, Karen shares her experience and gives tips on how to grow your Reiki business.
---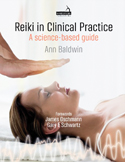 Book Review: Reiki in Clinical Practice—A Science-Based Guide, Ann Baldwin, Ph.D.
by Robin Fuerst, BS, PharmD

In this review, Robin describes how the author includes the requirements for a well-designed scientific study, explains how Reiki is used in hospitals, and provides an extensive review of the current scientific research on Reiki.
---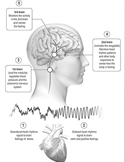 Reiki and Emotional Stress
by Ann Baldwin, Ph.D.

This is an excerpt from Ann's new book, Reiki in Clinical Practice, A Science-Based
Guide, and in it, she explains how the autonomic nervous system controls stress.

---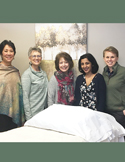 Reiki in a Behavioral Health Clinic
by Kavita Prasad, B.Sc. (Hons), M.D., F.A.C.P. and Diane Anderson, M.S.

Here the authors show the positive result Reiki can create in a community mental health center and how they are looking at additional ways to expand the role Reiki can offer their patients.
---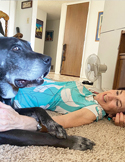 Reiki During the Pandemic
by Marsha R. Drozdoff, MSW

Marsha describes how her life and Reiki practice changed with COVID-19, and shares how Reiki guided her to new opportunities to share Reiki with others.

---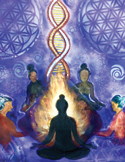 The Wisdom of the Grandmothers
by Martha Q. Lacy, MD

Based on a medical understanding of our DNA, this article explains the unique connection each of us has with our Grandmothers and provides a journeying technique to gain access to their wisdom.
---
Using Reiki to Heal Addictions
by Pamela Zuber

Pamela discusses how Reiki as a complementary healing path can help during rehabilitation, recovery, and treatment of addiction and other associated ailments.

---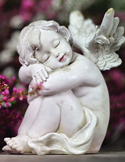 Talking about Death and Dying
by Peggy Gaines, RN, BSN

Many people have discomfort talking about dying and death and this article contains insights on how to use Reiki to heal the discomfort and support the client and family as death approaches.
---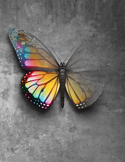 Reiki and Bipolar Disorder—A Story of Hope
by Kathy Golden

This article is about how the author learned Reiki and used it to care for her son with bipolar disorder. Reiki improved their relationship and gave her a positive way of viewing his life as a celebration of one success at a time.
---
Building My Relationship with Holy Fire® Reiki Energy
by Akleema Ali

Inspired by a Reiki webinar, the author overcame her personal challenges to develop a strong relationship with Reiki. This has given her the confidence necessary to make new Reiki friends with which to share Reiki with and to develop her Reiki practice.
---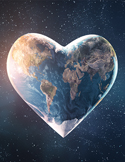 Success with Distance Reiki—The Joys and Miracles
by Kulia Selwyn

Kulia describes how she became comfortable using the Distant symbol and shares some of her experiences as a world traveler, providing Reiki to those in need.

---
This is an exciting and valuable issue that will supply you with entertainment as well as quality information and instruction. If you have any suggestions on how the magazine could be improved, I'd be very happy to hear them.
The world is a wonderful place, filled with continual changes which bring with them a never ending supply of opportunities. May you grow in the ability to allow the wisdom of Reiki to guide how you create your life.
Love and peace to you and the world.
William Lee Rand,
President
Writers Guidelines
If you would like to write an article for the Reiki News Magazine,
please see our Writers Guidelines by clicking here.
Advertising
We are accepting some advertising in our magazine.
Learn more about advertising.