Reiki News Fall 2010
Reiki News Fall 2010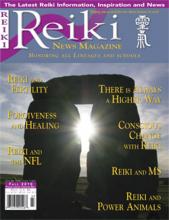 Fall 2010
Digital Version Available
Digital versions are available for online viewing only. Downloading and printing not available.
Once your purchase is complete please go to your profile page and click on the Digital Documents
tab, digital magazines are located lower down on the page. Advertisements are
out-of-date and may appear distorted or blurry but editorial material is not affected.
Honoring All Reiki Schools and Lineages
The Reiki News Magazine is a 80-page full color glossy magazine containing articles on every aspect of Reiki practice written by some of the most knowledgeable and experienced Reiki people on the planet. Below is a synopsis of the current issue.
Welcome . . .
to the Fall issue of the Reiki News Magazine. Our purpose in publishing the magazine is to provide you with inspiration as well as new ideas and techniques so your practice of Reiki can be more fulfilling and beneficial - to you as well as those you treat. By calling on Reiki to guide this process and by continually searching for the very best writers and giving them the freedom and encouragement to produce their best work, we remain focused on fulfilling that purpose. Check the amazing list of articles below. This issue is both exciting and practical!
Here is a list of the articles in this issue:
---
Enhancing Intuition with Reiji-ho
by Laurelle Shanti Gaia
Reiki brings us many gifts and among them is intuition. In this article Laurelle describes a method developed by Usui Sensei that uses the intuition of Reiki to guide hand placements and heal specific conditions.
---

There is Always a Higher Way
by William Lee Rand
Connecting with an enlightened being and allowing this being to help us surrender to the guidance of The Source is an effective way to live a miraculous life.

---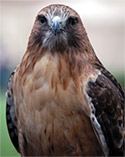 Reiki and Power Animals
by Colleen Benelli
Colleen explains how to connect and work with power animals that can provide guidance from a different perspective and help in our healing work.

---

Reiki and the NFL
by Raven Keyes
Reiki helped Charles Way of the New York Giants come back from a career-ending injury. Raven shares the story of how his connection with Reiki came about and the impact it had on his life.
---

Reiki and MS
by Elyn Selu
Although she was told that the most she could hope for was to slow the progression of her disease, Elyn never stopped looking for ways to heal herself. Now, ten years after her diagnosis of Multiple Sclerosis, she is in complete remission. She credits Reiki as a major factor in her healing.
---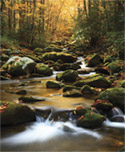 Reiki Mental Health Program
by Kathie Lipinski, RN, MSN, CH
Members of a facility on Long Island that provides support and opportunities for people with severe and persistent mental illnesses find that Reiki helps them cope with the many challenges they face.
---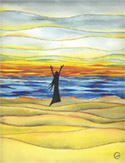 The Importance of Forgiveness in Healing
by Sandy Trimble
Being willing to forgive is an important part of the healing process. Sandy shares how she came to forgive someone in her life and how Reiki can be used to facilitate the process of healing.
---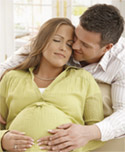 Reiki and Pregnancy
by Amanda Sachs
The use of Reiki throughout her pregnancy and delivery contributed to Amanda's well-being and to the outcome of a healthy, happy baby.
---

Reiki and Fertility
by Dawn Fleming
Reiki can help balance hormones and remove blocked energy that may be preventing women from conceiving or carrying a pregnancy to term. Dawn describes how she works with women experiencing infertility and shares stories of successful outcomes.
---

Reiki and Conscious Change
by Paden Cormack
Paden first sought clarity regarding her personal healing goals and then devised a specific Reiki treatment to help her achieve them.
---
Reiki Resources for Veterans
by Eileen Dey
Reiki can be a powerful healing tool for veterans who are suffering from Post Traumatic Stress Disorder. Eileen shares her experiences of teaching Reiki at a Seattle Veteran's Center and of work being done in the field to help Vets with this disorder.
---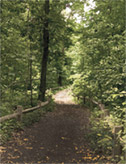 Reiki and Divorce
by Terri Heiman
Devastated by divorce, Terri used Reiki to help her get through the legal process, to regain her spirit, and reclaim her life.

---
Reiki Stories
Read the stories of people who have experienced the miracle-working power of Reiki.
---
This is an exciting and valuable issue that will supply you with entertainment as well as quality information and instruction. If you have any suggestions on how the magazine could be improved, I'd be very happy to hear them.
The world is a wonderful place, filled with continual changes which bring with them a never ending supply of opportunities. May you grow in the ability to allow the wisdom of Reiki to guide how you create your life.
Love and peace to you and the world.
William Lee Rand,
President