Reiki News Fall 2004
Reiki News Fall 2004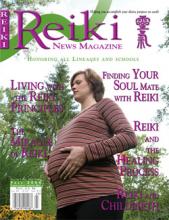 Fall 2004
Digital Version Available
Digital versions are available for online viewing only. Downloading and printing not available.
Once your purchase is complete please go to your profile page and click on the Digital Documents
tab, digital magazines are located lower down on the page. Advertisements are
out-of-date and may appear distorted or blurry but editorial material is not affected.
Honoring All Reiki Schools and Lineages
The Reiki News Magazine is a 80-page full color glossy magazine containing articles on every aspect of Reiki practice written by some of the most knowledgeable and experienced Reiki people on the planet. Below is a synopsis of the current issue.
Welcome . . .
to the Fall issue of the Reiki News Magazine. Our purpose in publishing the magazine is to provide you with inspiration as well as new ideas and techniques so your practice of Reiki can be more fulfilling and beneficial - to you as well as those you treat. By calling on Reiki to guide this process and by continually searching for the very best writers and giving them the freedom and encouragement to produce their best work, we remain focused on fulfilling that purpose. Check the amazing list of articles below. This issue is both exciting and practical!
Here is a list of the articles in this issue:
---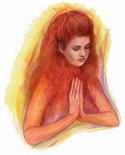 The Miracle of Reiki
by William Lee Rand
Reiki is a gift that comes from the Higher Power; immediately after that attunement, one has the ability to treat others. This in itself is a miracle, but in addition the healing it provides is a blessing to all who receive it. This article describes how to use the gift of Reiki to guide one's life. The origin of Western Reiki is explained along with how we can benefit by combining it with the Japanese style.
---
Realizations on My Path to Recovery
by Mari Hall
The heart attack Mari experienced last year has created unexpected blessings in her life. She explains the lessons she learned, including what it means to take good care of herself and how important it is to live according to one's emotional needs.
---
Teaching Reiki to Children, Part II
by Barbara McKell
Barbara follows up with answers to questions she received after her first article, including the question of permission, teaching the symbols to children, special considerations when giving the attunement, and other important issues.
---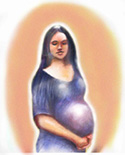 Reiki and Childbirth
by Mia Tennenbaum
Childbirth is a wonderful experience, and it can be even more fulfilling when Reiki is included in the process. Mia describes her experiences in combining Reiki and childbirth before conception, during pregnancy, and beyond. She explains the benefits Reiki provided and the wonderful effect it has had on her baby girl. Her experience receiving the attunements while pregnant and giving Reiki to other pregnant women is included.
---
Reiki with Children: A Nurse's Perspective
by Carol Bonura
Carol describes her work with newborn babies and children. She explains the special needs they have and how Reiki can provide the care and nurturing that is so important in helping them adjust to their new world, grow, and develop.
---
Living with the Reiki Principles, Part I: Just For Today
by Penelope Quest
Penelope explains the various versions and origins of the Reiki Principles in use today . She gives a brief explanation of each, shows how to say them in Japanese, and focuses on Just for Today and the importance of being in the present moment.
---

Finding Your Soul Mate with Reiki
by Walter Lübeck
Walter explains what a true soul mate is, the value of having one, how to use Reiki to find your soul mate, and how to know when this has taken place. He also explains the soul family, dual souls, and importance of being closely alignedwith your spiritual path. This article is clearly written and provides a practical, yet inspirational understanding of spiritual relationships.
---
Reiki in Hospitals: Emergency Reiki
by Pamela Miles
Reiki is being used alongside conventional emergency protocols in ambulances, emergency rooms, and acute care centers across the country. Pamela explains how doctors, nurses, and paramedics are getting positive results by combining Reiki with standard medical procedures during the first moments of medical care, which are so crucial in guiding a patient to recovery.
---
Reiki and the Healing Process: Transformation at Its Very Best
Diane Ruth Shewmaker
Diane explains the healing process, which can sometimes include detoxification, emotional release, and other uncomfortable experiences. She tells us why these experiences are valuable and how to deal with them effectively. Explaining them to your clients is also covered.
---
Reiki Stories
Read the stories of people who have experienced the miracle-working power of Reiki.
---
This is an exciting and valuable issue that will supply you with entertainment as well as quality information and instruction. If you have any suggestions on how the magazine could be improved, I'd be very happy to hear them.
The world is a wonderful place, filled with continual changes which bring with them a never ending supply of opportunities. May you grow in the ability to allow the wisdom of Reiki to guide how you create your life.
Love and peace to you and the world.
William Lee Rand,
President