Usui/Holy Fire® ART
Usui/Holy Fire® ART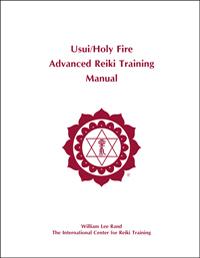 Please ensure you are purchasing the right style of teaching manual for your
class (i.e. Usui/Tibetan, Holy Fire®, Holy Fire® II, Holy Fire® III). Vision Publication will
not be held responsible for any returns due to customer purchasing incorrect manuals.
* 30% TEACHER DISCOUNT SPECIAL *
A 30% discount is available for qualified teachers ordering 5 copies or more. If you enter 5 copies or more in the quantity box above, our shopping cart program will automatically calculate the discounted price for your order. You will also receive an additional 10% discount for ordering from our web site.
Master Certificate Required
We must have a copy of your Reiki master teacher certificate on file before we can fill your order for this manual. Please fax it to 248-948-9534 or include it as an attachment emailed to center@reiki.org or mail to the below address.
This is the class manual used in this one day class.
Table of Contents
The Logo
Reiki Ideals
Lineage
Center Philosophy and Purpose
Reiki Healing Process
Reiki Moving Meditation
The Reiki Grid
Aura Clearing
The Usui Reiki Symbols
Kanji Symbols
Second Degree Usui Reiki Symbols
The Usui Master Symbol
The Promise of a Thriving Reiki Practice
Create a Thriving Reiki Practice, Part I
Create a Thriving Reiki Practice, Part II
RMA Code of Ethics
RMA Standards of Practice
Reiki Client Information Form
Reiki Documentation Form
Anatomy for Reiki