Registered Holy Fire® II Karuna Reiki® Master Manual - Spanish
Registered Holy Fire® II Karuna Reiki® Master Manual - Spanish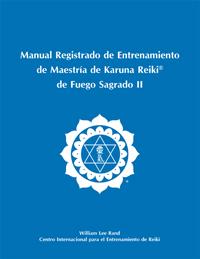 Por William Lee Rand
Please ensure you are purchasing the right style of teaching manual for your
class (i.e. Usui/Tibetan, Holy Fire®, Holy Fire® II, Holy Fire® III). Vision Publication will
not be held responsible for any returns due to customer purchasing incorrect manuals.
* 30% DE DESCUENTO EN PEDIDOS DE 5 O MÁS *
Un descuento del 30% está disponible para cualquier persona que pida 5 copias o más. Si ingresas 5 copias o más en el cuadro de cantidad de arriba, nuestro programa de carrito de compras calculará automáticamente el precio descontado de tu pedido. También recibirás un descuento adicional del 10% por realizar el pedido desde nuestro sitio web.
Certificado Principal y Registro Requerido
Este manual se vende solamente a los que se han registrado en el Centro
como Maestros de Maestría de Karuna Reiki® de Fuego Sagrado II.
Este es el manual oficial de Karuna de Fuego Sagrado para el programa de Karuna Reiki® de Fuego Sagrado y se suministra solamente a los maestros registrados de Karuna Reiki® de Fuego Sagrado. Cada manual viene con un certificado del Centro que se dará a cada estudiante.
Tabla de Contenidos
Filosofía y Propósito del Centro
El Origen del Sistema de Karuna Reiki de Fuego Sagrado II
Definiendo Alma y Espíritu
Los Tres Cielos
Dejando ir a los Guías
Karuna Reiki de Fuego Sagrado II y la Guía Espiritual
Cómo activar los Símbolos de Karuna de Fuego Sagrado II
Preparación para dar un tratamiento de Karuna Reiki® de Fuego Sagrado II
Experiencia de Sanación del Río de la Vida
Experiencia del Océano de Amor Sagrado
Experiencia de Amor Sagrado
Experiencia del Salón de Banquetes Celestial
Símbolos de Karuna I
Zonar
Halu
Harth
Rama
Símbolos de Karuna II
Gnosa
Kriya
Iava
Shanti
Símbolo maestro de Karuna de Fuego Sagrado II
Experiencias, Colocaciones e Igniciones
La diferencia entre iniciaciones e Igniciones
Preparación del Maestro
Ignición Principal de Karuna de Fuego Sagrado II Nivel I
Ignición principal de Karuna de Fuego Sagrado II Nivel II
Ignición de Fuego Sanador de Fuego Sagrado II
Cantar y Entonar
Uso y enseñanza de Karuna Reiki® de Fuego Sagrado II
Contenidos de clase
Programa de Registro de Karuna Reiki® de Fuego Sagrado II
Requisitos Mínimos de Enseñanza
Código de Ética
Formulario de inscripción
Formularios de examen de los símbolos
Formulario de evaluación de clase
Formulario de Información al Cliente