ART/Master Manual Spanish
ART/Master Manual Spanish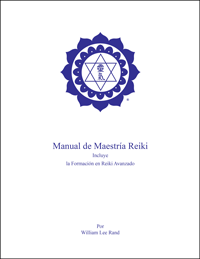 por William Lee Rand
172 páginas, 8-1/2" x 11"
Revisado mayo 2012
¡Utilizado por más de 2500 maestros de Reiki como manual de clase!
Please ensure you are purchasing the right style of teaching manual for your
class (i.e. Usui/Tibetan, Holy Fire®, Holy Fire® II, Holy Fire® III). Vision Publication will
not be held responsible for any returns due to customer purchasing incorrect manuals.
* 30% DE DESCUENTO PARA MAESTROS *
Un descuento del 30% está disponible para cualquier persona al pedir 5 o más ejemplares. Si introduces 5 copias o más en el cuadro de cantidad (arriba), nuestro programa de carrito de compras calculará automáticamente el precio con el descuento para su pedido. También recibirá un descuento adicional del 10% por ordenar desde nuestro sitio web.
Certificado de Maestría Requerido
Debemos tener una copia de su certificado de maestría de Reiki en el archivo antes de poder completar su pedido para este manual. Favor de enviarlo por fax al 248-948-9534 o incluirlo como un archivo adjunto por correo electrónico a: center@reiki.org o enviarlo por correo a la dirección de abajo.
En uso desde 1990, este manual ha sido continuamente actualizado para que contenga la información más precisa y completa para la formación de Maestría de Reiki. Ahora, junto con el Manual de Formación Avanzada de Reiki, sus 172 páginas cubren todos los aspectos importantes de la práctica avanzada del Reiki, así como proporcionar una guía fácil para dar a todos las sintonizacones y las clases de Reiki, incluyendo el nivel de Maestría. Se centra en las sintonizaciones del estilo Usui / Tibetano pero también incluye el estilo original de Takata.
IIlustrado con más de 34 dibujos y fotografías.
La información contenida en este manual ha sido investigado para su precisión y se basa en la utilización de documentos originales y entrevistas con Maestros de Reiki en Japón.
El manual se destaca por los siguientes temas:
Origen del Reiki Occidental
El Reiki Occidental, introducido por la Sra. Takata es una forma modificada del sistema Usui y es un estilo algo diferente de lo que el Dr. Usui enseñó originalmente. Se explican las diferencias y cómo y por qué sucedió esto. El desarrollo de otros estilos occidentales incluyendo el Raku Kei y el estilo de Usui / Tibetano se describen también.
Meditación en Movimiento de Reiki
Esta meditación es una combinación del Qi Gong, como movimientos combinados con el uso del símbolo Maestro Usui. Los profesionales se sienten estables, centrados y con energía a través de su uso.
Meditación de Reiki Avanzado
Este es una meditación tipo Yantra que hace uso de los símbolos de Reiki. Desarrolla claridad mental, expande la conciencia, mejora las capacidad de visualizar y crea paz interior.
Parrilla de Cristal de Reiki
CCreación de una parrilla de Reiki que permite enviar Reiki a uno mismo continuamente, a las metas y a muchas personas al mismo tiempo. También se puede utilizar para promover la paz mundial.
Limpieza del Aura
También se le llama cirugía psíquica, esta técnica permite borrar rápidamente las formas de pensamiento negativo y la energía emocional negativa en el aura de un cliente o cuerpo físico. Es una técnica eficaz que ha ayudado a sanar tanto las enfermedades físicas, como las cuestiones emocionales y espirituales.
Los símbolos de Reiki
Se da una explicación clara y objetiva de cada uno de los símbolos de Usui Tibetano. También se explica la metafísica detrás de su eficacia, así como la forma de dibujarlos correctamente y activarlos. (Los símbolos se incluye en el manual.)
Símbolos de sanación Antahkarana
Estos símbolos abren la conexión entre el cuerpo físico y el Ser Superior y hacen que la energía del Reiki sea más eficaz. También mejoran la meditación y se pueden utilizar de muchas maneras interesantes.
Aliento Violeta
Esta técnica es originada en el Raku Kei y es parte del proceso de sintonización Usui / Tibetano y también puede ser utilizado para la sanación. Las instrucciones ilustradas muestran exactamente cómo hacerlo.
Sintonización de Sanación
En esta sintonización se utilizan las mismas energías de alta frecuencia que en las sintonizaciones, pero no inicia a la persona en el uso de Reiki. En su lugar, dirige la energía para la sanación. Se trata de una técnica de sanación adicional que rápidamente puede liberar los bloqueos y sanar a un nivel muy profundo.
Sintonizaciones
Instrucciones detalladas paso a paso sobre la forma de dar todas las sintonizaciones de Reiki para ambos estilos Usui y Usui / Tibetano. Incluyendo las de Reiki I, II, ART, Maestría.
Guías de Enseñanza
Explica el proceso de convertirse en un maestro de Reiki, así como la forma de desarrollar la práctica de Reiki, y promover, organizar y enseñar clases de Reiki. Se cubren la filosofía, así como su aplicación práctica e incluye guías de clase, formularios de información del cliente y una lista de recursos.