Reiki News Winter 2010
Reiki News Winter 2010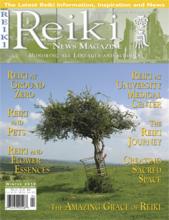 Winter 2010
Digital Version Available
Digital versions are available for online viewing only. Downloading and printing not available.
Once your purchase is complete please go to your profile page and click on the Digital Documents
tab, digital magazines are located lower down on the page. Advertisements are
out-of-date and may appear distorted or blurry but editorial material is not affected.
Honoring All Reiki Schools and Lineages
The Reiki News Magazine is a 80-page full color glossy magazine containing articles on every aspect of Reiki practice written by some of the most knowledgeable and experienced Reiki people on the planet. Below is a synopsis of the current issue.
Welcome . . .
to the Winter issue of the Reiki News Magazine. Our purpose in publishing the magazine is to provide you with inspiration as well as new ideas and techniques so your practice of Reiki can be more fulfilling and beneficial - to you as well as those you treat. By calling on Reiki to guide this process and by continually searching for the very best writers and giving them the freedom and encouragement to produce their best work, we remain focused on fulfilling that purpose. Check the amazing list of articles below. This issue is both exciting and practical!
Here is a list of the articles in this issue:
---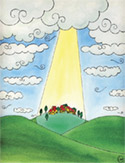 The Amazing Grace of Reiki
by Colleen Benelli
In this article, Colleen shows how the power of grace flows through Reiki as a gift from the divine with no exceptions and explains how it will always come when we call, and will always assist us.
---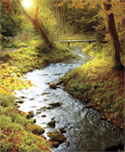 In the Flow of Grace
by Natalia Pisetskaya
Natalia shares how one simple Reiki self-treatment opened her mind, soul, and life to the healing presence of Reiki. She explains how the miracle of Reiki is available to everyone in every moment of every day.

---

Don't Put Reiki in a Box!
by Bonnie Hassan
Bonnie helps us all remember to trust Reiki's healing power rather than trying to limit it in any way. As she says, the more you use Reiki, the stronger it becomes; the more you take it on as part of yourself, the more God leads you down the path that is right for you.
---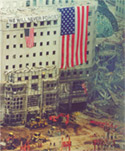 Reiki at Ground Zero
by Raven Keyes
The destruction and calamity caused by the events of September 11, 2001 had a horrendous effect on our country and especially on all those present. In this article Raven shares her harrowing experiences giving Reiki sessions on site during the aftermath to those traumatized by the event as well as the brave personnel who worked tirelessly to help the injured and search for the dead.
---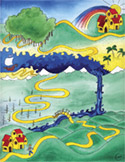 The Reiki Journey: Healing the Healer
by Dodi Mitchell
How many of us know Reiki practitioners that send healing energy to everyone but themselves? In this article, Dodi shares her personal journey and shows us the true importance of "Physician, heal thyself."
---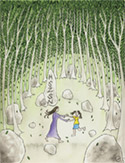 The Distant Symbol Heals the Past
by Deb Karpek
Deb shares a powerful journey to the heart of healing in which she uses the Distant Healing symbol to make peace with the past, assist in the present, and prepare for the future. You'll want to add her "Reiki power walks" and Distant Healing chants to your own practice!

---

Reiki at University Medical Center
Mega R. Mease is interviewed by William Lee Rand
Mega and William discuss her groundbreaking volunteer-based hospital Reiki program and how it provides a model for hospitals and other medical facilities across the United States.
---
My Feline Reiki Teacher
by Sheryl Schlameuss Berger
A stray cat teaches Sheryl Reiki life lessons we can all use in our own lives and with our clients. In this article, she shares Casey's story and passes along the deep Reiki wisdom he taught her.
---

Reiki for Pets? Go the Distance
by Conrad Jestmore
So many of us automatically use hands-on Reiki when we work on animals. In this article, Conrad shows how effective distant healing can be for Animal Reiki, either by itself or combined with hands-on Reiki.
---

Using Reiki and Tantra to Heal Relationships
by Keesha Ewers
Adding Tantra to your Reiki practice can unleash a powerful force for restoring harmony and love to relationships. In this article, Keesha provides a seven-step process, with examples to help you or your clients work through the conflicts that commonly occur in relationships.
---

Creating Sacred Space
by Laurelle Shanti Gaia
Creating a sacred space, whether it's an altar or an entire room, can empower your Reiki practice to be more effective. In this article, Laurelle takes you through the four steps you'll need to transform any place into a sacred space, and shows you how to set up an altar.
---

The Healing Peace of Reiki
by Jacqueline Ramsey
Jacqueline's Reiki journey began with her own unbearable pain, and then continued as her Reiki training helped her give the gift of healing energy to more and more people. She describes how her just-the-facts accountant's mind finally accepted the reality of Reiki's power.
---

Reiki Blossoms: Using Bach Flower Essences in Your Reiki Practice
by Kisma Reidling
Kisma shows how combining the soothing and strengthening power of Bach Flower Essences with Reiki can help both clients and practitioners address issues related to the Five Reiki Ideals. Formulas are included so you can create your own Flower Essences.
---
Reiki Stories
Read the stories of people who have experienced the miracle-working power of Reiki.
---
This is an exciting and valuable issue that will supply you with entertainment as well as quality information and instruction. If you have any suggestions on how the magazine could be improved, I'd be very happy to hear them.
The world is a wonderful place, filled with continual changes which bring with them a never ending supply of opportunities. May you grow in the ability to allow the wisdom of Reiki to guide how you create your life.
Love and peace to you and the world.
William Lee Rand,
President