Reiki News Winter 2007
Reiki News Winter 2007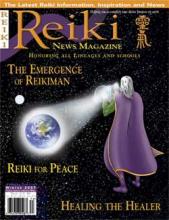 Winter 2007
Digital Version Available
Digital versions are available for online viewing only. Downloading and printing not available.
Once your purchase is complete please go to your profile page and click on the Digital Documents
tab, digital magazines are located lower down on the page. Advertisements are
out-of-date and may appear distorted or blurry but editorial material is not affected.
Honoring All Reiki Schools and Lineages
The Reiki News Magazine is a 80-page full color glossy magazine containing articles on every aspect of Reiki practice written by some of the most knowledgeable and experienced Reiki people on the planet. Below is a synopsis of the current issue.
Welcome . . .
to the Winter issue of the Reiki News Magazine. Our purpose in publishing the magazine is to provide you with inspiration as well as new ideas and techniques so your practice of Reiki can be more fulfilling and beneficial - to you as well as those you treat. By calling on Reiki to guide this process and by continually searching for the very best writers and giving them the freedom and encouragement to produce their best work, we remain focused on fulfilling that purpose. Check the amazing list of articles below. This issue is both exciting and practical!
Here is a list of the articles in this issue:
---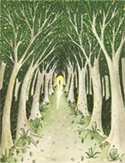 Living a Meaningful Life
by William Lee Rand
Meaning in life is based on the ability to feel and on the values one uses in deciding how to live one's life. If we are to experience fulfillment, we must live from our hearts and base our lives on who we really are.
---

Teaching Reiki to Children with Special Needs
by Dodi Sarette
This article shares practical advice gained from the experience of teaching those with special needs. These wonderful children bring special gifts to Reiki that are a blessing to the teacher as well as to all whose lives the children touch..
---
My Reiki Journey with Animals
by Carol Mulrooney
Animals have a natural understanding and a ready acceptance of Reiki. Carol describes the bond that develops and the special communication that is made possible with animals through Reiki.
---

Reiki for Peace
by Amy Z. Rowland
Reiki is the essence of peace and is an excellent tool for bringing about peace on Earth. This article explores the use of Reiki to create peace in the world and features several groups who have organized for this purpose.
---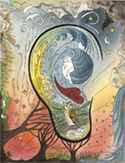 Listen with Reiki
by Colleen Benelli
Listening well is a necessary skill for a good Reiki practitioner and teacher. In this article, Colleen explains how to develop listening skills that will bring important benefits to all areas of a practitioner's life.
---

The Emergence of Reikiman
by William Lee Rand
As the practice of Reiki grows throughout the world, its essence grows stronger. As Reiki energy develops, the guidance it provides for the individual practitioner becomes clearer and more definite. Reikiman is a metaphor for the extraordinary value that one can receive from Reiki.
---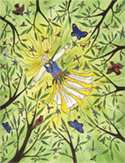 Healing the Healer
by Tanmaya Honervogt
Reiki is not only about helping others, but also about the practitioner's own healing process. This is even more important for those who become Reiki Masters. Because healing on an emotional level is especially important, this article provides valuable understanding and a number of exercises to facilitate emotional healing.

---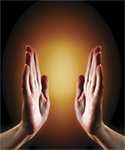 Understanding Byosen Scanning,
Part III - Byosen Perception Training
by Frank Arjava Petter
Discovering those areas in need of healing is a necessary skill for the advanced healer. This article explains how to more effectively discern the "disease line" by increasing the sensitivity in the practitioner's hands.
---
Reiki Stories
Read the stories of people who have experienced the miracle-working power of Reiki.
---
This is an exciting and valuable issue that will supply you with entertainment as well as quality information and instruction. If you have any suggestions on how the magazine could be improved, I'd be very happy to hear them.
The world is a wonderful place, filled with continual changes which bring with them a never ending supply of opportunities. May you grow in the ability to allow the wisdom of Reiki to guide how you create your life.
Love and peace to you and the world.
William Lee Rand,
President