Reiki's Birthplace
Reiki's Birthplace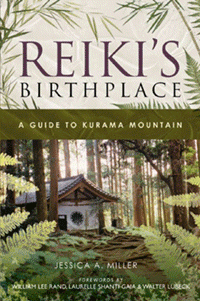 By Jessica Miller
Forword by William Lee Rand
Mount Kurama, also known as Kurama Yama, is the sacred mountain in Japan, where Mikao Usui, the founder of Usui Reiki, first encountered Reiki. Reiki is a spiritual energy that has evolved into a healing art and is practiced by millions worldwide. Reiki is rapidly gaining acceptance in the traditional medical community, as well as among practitioners of complementary healing modalities.
Human beings have sought places of power within nature since the beginning of time. Whether it be a cliff overlooking an ocean, a waterfall, desert, or mountain, people have found solace in the dramatic presence of nature. Such a place of power is created outwardly by a combination of forces that together form an ambience of unusual beauty and peace. Inwardly perceived, there is also an attracting focus of subtle energies, energies that refresh and renew and draw one up into spiritual realms. Some of these places remain in their natural state, wild, raw, and untouched while others are graced by temples, shrines, and holy cities that honor the energy, focus the power, and provide a sanctuary for meditation and worship. Kuramayama is such a place of power. Sloping between two peaks and covered with cedar trees, this gentle mountain refuge is home to many temples and shrines. A trail leads to the top of the mountain on the village side, passing several small waterfalls and each of the spiritual sites. At the top, other trails lead through the forest, allowing the spiritual seeker opportunity for solitude and communion with nature.
I recall, once, after spending all day on the mountain, slowly beginning the descent, alone. The sun was setting, and the day slowly changing to twilight. The cooling air felt refreshing on my skin after a day of hiking. Tinged with fall color, shimmering leaves rustled ever so gently caressing my soul. I drifted into the spell of the mountain and within this moment became aware of the unmistakable inner light of higher consciousness that is so often present where spiritual devotees have dedicated themselves to a life of meditation in pursuit of enlightenment.
Being the birthplace of Usui Reiki, for the first fifty years or more that Reiki was practiced in the West, the location of Kuramayama was somewhat of a mystery, more of a legend than an actual place one could visit. Only in recent years has its location become widely known within Reiki circles, and Reiki pilgrims have begun making the journey of homage to the place which gave rise to their healing art.
To my knowledge, this is the first book written by a Reiki teacher in honor of the birthplace of Reiki that provides such a thorough description of its history, legends, and cultural background. It is a wonderful preparatory guide for those wanting to journey to this sacred mountain and gives those unable to go a thorough understanding of the importance of this magical place. Certainly it will help ground the reality of Reiki in the location of its origin and assist those devoted to Reiki to more completely embrace the source of the healing energy that flows through them.
– William Lee Rand
Jerusalem, March 2006
"When I journeyed to Japan in 1997 to research the history of Reiki I would have loved to have had a guidebook like this. Not only is this a great guide for those planning a visit to the mountain, it is an excellent educational resource for anyone interested in Reiki, and a lovely way to sense the essence of Kurama Mountain."
– Laurelle Shanti Gaia
Founder, Infinite Light Healing Studies Center, Sedona, AZ
"It reads like a travel guide and yet when you have dreamed, as I have, of retracing the steps of Usui and touching the birthplace of Reiki, you are transported to Kurama Mountain through words and beautiful photos. The bonus is that you are also given such wonderful tidbits of wisdom along the way. Ancient spiritual traditions, Usui's experiences and modern understanding are blended together and our hearts and souls are richer for reading it. Well Done!
– Mari Hall
Founder and Direction of International Association of Reiki
"I am a native of Kyoto, the ancient capital city of Japan, founder of Komyo Reiki and a Buddhist monk. I have guided many tours of Kurama-yama for Reiki people from around the world. Now, at long last, we Reiki people are fortunate to have an in-depth book on Kurama yama, the birthplace of Reiki, thanks to the time-consuming work of Jessica. I trust this book will take you to the very original place of Reiki and make you feel you are back home with the founder, Usui Sensei. This book is an informative even to the Japanese people. I do hope there will be a Japanese version of the book in the future."
– Hyakuten Inamoto, Komyo Reiki Kai