By Patricia Keene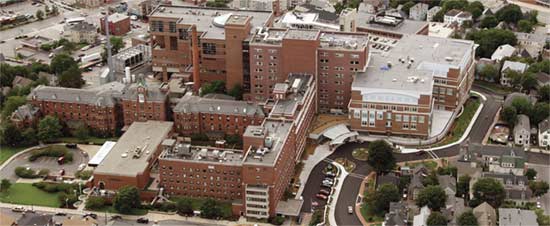 Maine Medical Center in Portland Maine.
In August 2004, Maine Medical Center endorsed a training program for certifying Reiki Level I and II practitioners. Since the program's inception, classes have been held each month at the Falmouth, MMC location. Volunteers, clinical personnel, and other employees throughout the Maine Health system have availed themselves of the opportunity to enhance clinical and personal development through Reiki training. Classes are purposefully kept to a small teacher/student ratio with an inviting and supportive circle style format. The hospital also sponsors a facilitated once-a-month Reiki Support/Enrichment group to provide informative, supportive gatherings for sharing, learning and keeping skills fresh. The results of this venture are twofold:
A well received and rapidly growing volunteer program at the hospital that provides Reiki at no cost to patients and their families who have self-referred or been referred by health care workers, including several physicians. Health professionals in vastly increasing numbers are using Reiki as an integral part of their day-to-day patient care and are restored and rejuvenated themselves for it!
Beginnings
While attending an out of state conference, Falmouth's then Volunteer Services Director, Sandy C., was delighted to learn about Reiki and about thriving Reiki programs at places like Wentworth Douglas and Portsmouth Hospital. She was determined that Maine Medical Center patients and staff would be able to avail themselves of this wonderful energy work as an added component to the hospital's complementary offerings.
To that end, having knowledge of my ongoing private Reiki teaching work, Sandy inquired as to my interest in being part of this venture. She didn't need to ask twice! From that point, our complementary nurse coordinator set up a series of meetings wherein I presented my portfolio, which included my teaching philosophy, State of Maine education training background/certificates, Reiki Master Teacher training and certificate, resume, teaching materials, and individual teaching style. Satisfied with my credentials, a small committee of administrative and clinical staff, including myself, worked on policy and procedure, as well as how to incorporate this modality into the hospital.
Sandy had discovered a small fund set up years previously that had been earmarked for patient services. What better way to serve patients than by offering Reiki! It was enough to cover the fees for training 18 people, a combination of volunteers and RNs. Thereafter, employees could be reimbursed for classes through available yearly training funds.
In the initial stages of the program, there was a concentrated effort to educate staff and administration, as many of them knew little of this modality and of its myriad benefits. When going to administer Reiki to a patient referral, volunteers were encouraged to draw in the medical staff at the nursing stations by greeting them, introducing themselves, and asking about timing of a session for the particular referral. They often gave a mini dissertation on what Reiki is and how it may be beneficial to patients.
All volunteers, trained in safety and precautionary procedures, made every effort to create an ambiance of calm and quiet, despite the normal routines, noises, and interruptions inherent in the hospital atmosphere. Practitioners were trained to keep each patient's own particular orientation in mind. Simple explanations, rather than technical, were often warranted. One nurse, who offers Reiki whenever she is able, might say to a patient, "I've been trained in a technique that can help you to relax and de-stress and could even help the healing process. It is a gentle hands-on method." Conversely, patients who are familiar with Reiki and request it need no explanation!
As time went by and more and more patients requested this adjunct to treatment and reported the many benefits, not only did nurses and physicians increasingly refer patients, they themselves sought Reiki training! In addition, several medical students from the University of New England and nursing students attending University of Maine and Southern Maine Community College have become Reiki trained while working clinical practicums at Maine Medical Center. Many clinical employees have become Reiki volunteers outside of their normal work shifts.
Documentation and Outcomes
From the onset of the Reiki program at Maine Medical Center, all involved recognized the importance of data capture. To that end, data has been compiled that shows where, when and how referrals are made, together with results of Reiki treatment as perceived by patients and family, who provide anecdotal information, all of which clearly evidences the enormous positive effect of Reiki as part of the hospital experience. Varying reports of Reiki treatment point to everything from achieving a more relaxed state and better rest, to easing pain and enhancing the healing process. Many patients report the soothing emotional effects of Reiki and an overall sense of peacefulness. The remarkable possibilities streaming from this work are practically endless: calming during both pre- and post-surgery, soothing and lessening unpleasant side affects of anesthesia, de-stressing and relaxing so that the body's own intelligence can more easily tune in to the healing process at hand.
Students of Reiki who have been experiencing and practicing this modality share extraordinary stories. Several have recounted incidences concerning people at the end stage of life who have been greatly soothed and aided to put affairs to rights, mentally and emotionally clear in order to say goodbyes, and make transitions with greater ease. Likewise, Reiki has aided family members of patients in these same ways. Reports from the nursery and the NICU show that babies are benefiting. Reiki seems to calm and soothe them, especially, those born addicted to substances.
Here are a few of the direct outcomes experienced by patients:
a heart surgery patient experienced decreased heart rate
a special care unit patient's blood pressure decreased
an elderly patient found he could breath more easily
a cancer patient's nausea was relieved
a patient's spinal fusion spasms discontinued altogether
Confidentiality was maintained and no patient identifiers were collected.
Judy B., a CAT scan technician, pastoral counselor and Reiki volunteer, asserts that Reiki allows patients to quiet and find sacred space, especially prior to having the scan, which, in and of itself, may evoke feelings of nervousness and fear. She says that people seem generally more at peace and demonstrate a lowered heart rate. Judy comments that, personally, Reiki serves to keep her grounded.
Several weeks ago, a Maine Medical Center team embarked on a mission to China to perform cutting edge open-heart surgeries on infants who might otherwise not be treated. Deb K, Unit Based Educator and nurse on SCU II, accompanied this team of highly skilled physicians and nurses. She recounts the following: In China, once the breathing apparatus has been removed, pain medication is not administered to babies recovering from open-heart surgery. One particular baby, whose surgery redirected his blood flow, was clearly in severe pain. Typically, these infants experience a tremendous headache in addition to whatever pain is related to the surgery site. Deb was able to offer Reiki along with cutaneous stimulation, and in very short order the little one was calmed and quieted. Deb is hopeful that some small seeds have been sown in the minds and hearts of the Chinese surgical teams and aftercare staff.
Equally important is the benefit to busy health care professionals as they take on what sometimes may feel like Herculean tasks. Reiki, self-administered or administered by another, brings maximum benefits with minimum time and effort. Even a few minutes of Reiki can serve to refresh, relax, re-focus and buoy the recipient. Those trained in Reiki II are putting their distant Reiki skill to good use by sending healing energy to their surroundings, calming and empowering the work of all concerned.
Other special efforts related to this program include a once a year Reiki Clinic held during Nurses Week and offered to all hospital employees as a way of thanking them for dedicated service, and as introduction, in some cases, to this wonderful modality. An important part of my work as a Reiki educator is to present at various groups, conferences and special programs, for instance, the MMC Clinical Pastoral Residency or the Hepatitis C Support Group affiliated with the hospital, to introduce and demonstrate Reiki as a complementary choice to augment traditional treatment.
Projected hopes are that soon Reiki will be an integral part of the offerings at Maine Medical Center and Maine Health out posted offices, especially places such as the Breast Care Center and the Brighton campus. The only deterrent presently is that volunteers have more requests than they can fill in the hospital proper. It is important to note that many clinical employees in other locations are Reiki trained and most of them are integrating Reiki as they administer health care. This is a step forward!
As training continues and education brings awareness of this complementary offering to the forefront, and as patients continue to request Reiki, it is only a matter of time before this life-enhancing modality will be offered throughout the system!
—Patricia can be reached by Email at pkbodywork@hotmail.com, by phone at (207) 240-9974 or by Web page at www.byregion.net